While the coronavirus pandemic has placed extraordinary strain on hospitals and emergency departments (EDs), it has also had a dramatic impact on primary care practices, which are managing less-acute cases of COVID-19 while tending to the ongoing needs of patients with chronic conditions. We reached out to three primary care practices: ChenMed, a large medical group serving Medicare Advantage members in eight states; Coastal Medical, a large primary care practice serving 120,000 patients across Rhode Island; and West County Health Centers, a federally qualified health center with four clinics across Northern California. While different in size and structure, all three organizations had been experimenting with new care delivery models and tools, including the use of telehealth and risk stratification of patients, before the pandemic. They are now doubling down on these efforts, thanks to the flexibility that comes from not being solely or largely dependent on fee-for-service payments.
Christopher Chen, M.D., the CEO of ChenMed, a multistate medical group serving some of the most vulnerable Medicare beneficiaries, has been trying to outflank the novel coronavirus, which has been spreading rapidly in many of ChenMed's markets, including New Orleans, Chicago, and Miami.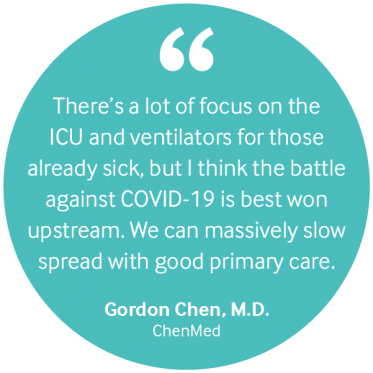 Three-quarters of ChenMed's patients have five or more major chronic conditions, including congestive heart failure, chronic obstructive pulmonary disease, and diabetes, all of which can turn a COVID-19 infection into a death sentence. With an average age of 72, ChenMed's patient population is at such high risk of complications that Chen has authorized staff to do — and spend — whatever it takes to keep patients in their homes and away from hospitals and EDs. "I have not put any guardrails around it other than complying with Medicare rules," he says.
Told to think creatively, ChenMed staff have begun making deliveries of toilet paper, meals, and prescriptions and offering help with the Instacart app. Doctors and other care team members are also calling patients at least once a week to check in, and the medical group is sending texts twice-weekly to remind patients of the importance of social distancing, especially with grandchildren. "Their anxiety level is through the roof," says Gordon Chen, M.D., Christopher's brother and ChenMed's chief medical officer. "We want to provide information and local updates that they can trust. And we keep reminding our patients that this disease is preventable by taking needed precautions."
Going Virtual
To minimize risk before the novel coronavirus's spread, ChenMed also converted 95 percent of medical visits to its telemedicine platform within one week. While the practice has kept its 59 centers open for patients still needing face-to-face care, ChenMed clinicians also make home visits when needed.
Employees age 65 and older, as well as those with chronic conditions that put them at higher risk of COVID-19 complications, have been ordered to work from home, with many assigned the task of making what ChenMed leaders refer to as "love calls" to isolated seniors.
The quick pivot was made possible by ChenMed's business model: the company receives a set amount from Medicare Advantage plans each month. Because it is on the hook for patients' health care costs, including medications, ED visits, and hospitalizations, ChenMed's providers have strong incentives during the pandemic to keep patients healthy. Before COVID-19's emergence, ChenMed providers did so by increasing face-to-face time with patients (210 minutes per year on average) and by reducing panel sizes. ChenMed's primary care providers each serve at most 400 patients, a fraction of the U.S. average (2,300) for primary care physicians. ChenMed made dramatic gains with its high-touch model before COVID-19 hit: hospitalizations among its patients were generally half the average for Medicare beneficiaries in its markets, the company says. Its investment in a homegrown, cloud-based electronic health record system also has made it easier for providers to care for patients during the pandemic.
Risk Stratification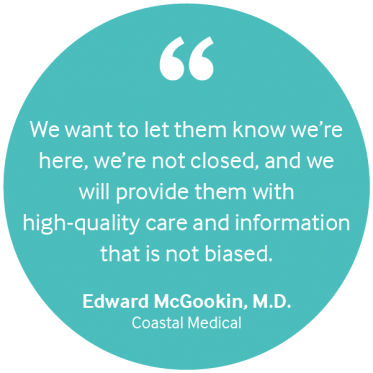 In Rhode Island, Coastal Medical, a large primary care practice and accountable care organization with 125 physicians and advanced practitioners, also has accelerated its outbound contacts with patients, in part by repurposing a texting platform it had been planning to use to manage hypertension and heart failure. Since March, Coastal has been using the platform to query patients who have or are assumed to have COVID-19; every day, a text is sent asking them how they feel compared to the previous day, if they have a fever, and whether they're having difficulty breathing. Nearly three-quarters of patients complete the survey within two hours, says Sarah Thompson, Pharm.D., Coastal's vice president of clinical operations and pharmacy. Clinicians follow up with patients who report problems.
Coastal also has developed an algorithm (see box) to identify patients whose underlying medical and behavioral health conditions or social challenges put them at higher risk of poor outcomes should they contract the coronavirus.