Executive Summary
The National Academy for State Health Policy (NASHP), working for the Maine Governor's Office of Health Policy and Finance and with support from The Commonwealth Fund and the Maine Health Access Foundation, sponsored this study of Maine citizens.
The study was initiated in response to legislation (the Dirigo Health Reform Act) proposed by the Governor to address cost, quality, and access to health care. The purpose of the Reform Act is to make quality, affordable health care available to every Maine citizen within five years and to initiate new processes for containing costs and improving health care quality. A major premise behind the law is that successful health care reform must address cost, quality, and access simultaneously and with equal vigor. The law is built on the assumption that health reform cannot be done in a piecemeal fashion. If attention is paid only to access, costs will increase. If lowering the cost of care is the primary concern, access will be limited. And if quality is the sole focus, people will remain uninsured and costs will remain high.
There were multiple goals for this study:
To better understand barriers to health insurance coverage for workers and employers;
To understand what workers and employers want in a health insurance plan;
To understand the trade-offs, if any, that workers and employers are willing to make to keep insurance premiums low;
To understand how business owners, health insurance brokers, and workers view Dirigo Health;
To find out what business owners, health insurance brokers, and workers know about Dirigo Health;
To discern whether there is any misinformation circulating about Dirigo;
To better understand what employers need in order to sign up with Dirigo; and
To identify what it would take to encourage employees to enroll in the plan.
The research consisted of six focus groups that Lake Snell Perry & Associates (LSPA) conducted in three cities in Maine during December 2003. The focus groups were supplemented by ten indepth interviews conducted in January 2004. Tables 1 and 2, below, outline the dates, locations, and participants involved in the research. The Participant Profile section that follows the tables contains more information on the five key stakeholder segments identified for this research.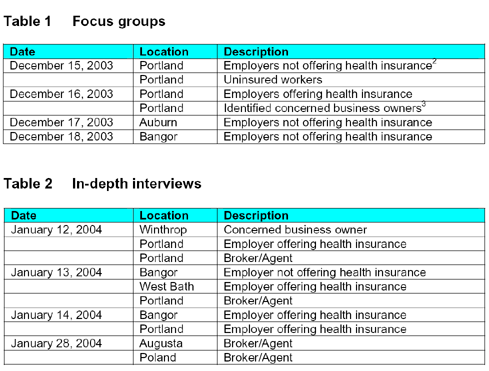 Focus groups are a qualitative research tool, which means that these results cannot be statistically projected to the larger population. The experiences and attitudes detailed in this report may not be representative of these groups. What qualitative research can do is provide subtle insights into individuals' experiences, attitudes, and opinions. By giving these participants the opportunity to share their feelings and experiences in their own words, the focus groups and one-on-one interviews allow more vivid, detailed findings than quantitative research methods can achieve.
Publication Details
Publication Date:
December 1, 2004
Citation:
Report from Focus Groups with Mainers About the Dirigo Health Plan, Eugene LeCouteur and Michael Perry, The Commonwealth Fund, December 2004.
Experts
Senior Analyst, Lake Snell Perry & Associates
Partner, Lake Snell Perry & Associates