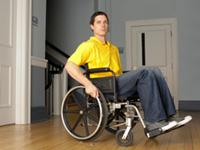 Executive Summary
In 1965, President Lyndon B. Johnson made the creation of Medicare—a federal health insurance program designed to meet the needs of older Americans priced out of the private health insurance market—a cornerstone of his Great Society. In 1972, President Richard M. Nixon signed legislation extending Medicare to people under age 65 with severe physical and mental disabilities. The promise of secure health care coverage to younger people, who through illness or injury had lost their ability to work, was a natural extension of a program that already brought health and security to older Americans.
However, people who are deemed eligible by the Social Security Administration for Social Security Disability Insurance due to severe and permanent disability receive Medicare coverage only after a two-year waiting period. That is, they must wait two years after receiving their first disability benefit check before becoming eligible for Medicare. As a result of this policy, there are as many as 1.5 million men and women who are too disabled to return to work but who are waiting to receive Medicare coverage for the health care they need. Of these, nearly 39 percent are uninsured for at least some of the time during the waiting period, and 26 percent have no insurance throughout the waiting period.
This report tells the stories of some of those Americans.
The majority of people who become disabled were, before their disability, working full-time jobs and paying into Medicare like all other employed Americans. But what happens when, like Ralph Payette, they have a welding accident, or, like Deborah Turnage, they are diagnosed with a muscle disease? Life takes a mean turn, and at the moment these men and women need coverage the most—just when they have lost their health, their jobs, their income, and their health insurance—federal law requires them to wait two full years to become eligible for Medicare.
In one tragic and regrettably typical story, Jim Waterhouse was left with $50,000 in debt and compromised health caused by lack of medications and treatment after two heart attacks, severe spinal compression, diabetes and anemia. Other individuals, like Darla Polasek, see their marriages fall apart as they wait. Still others, like Elaine Gilbertson, attempt suicide to escape the shame and depression of having to ask for handouts and go without treatment. Many sell their homes or go bankrupt. And more than 16,000 people—like Stan White—do not make it through the waiting period. They die before their Medicare coverage ever begins.
For years, the cost of ending the waiting period has been known. Expert analyses have shown providing men and women with Medicare at the time that Social Security certifies them as disabled would cost $8.7 billion annually . This cost would be partially offset by $4.3 billion in reduced Medicaid spending by Medicaid, which many individuals require during the waiting period. In addition, untold expenses borne by the individuals involved could be avoided, as well as the costs of charity care on which many depend. Moreover, there may be additional savings to the Medicare program itself, which often has to bear the expense of addressing the damage done during the waiting period. During this time, deferred health care can worsen conditions, creating additional health problems and higher costs.
The 24-month waiting period was instituted to save money and keep people from "gaming the system." But as the sister of Stan White, the man who died waiting for his Medicare coverage to begin, said, "People who are genuinely gaming the system have the time to wait it out. It's those who truly need help who don't have time on their side." Ultimately, the financial savings resulting from the waiting period is dwarfed by the human cost.
Some members of Congress have attempted to prevent at least some people from falling through the cracks of the health care system when they most need care. On December 15, 2000, the 106th Congress eliminated the waiting period for people with amyotrophic lateral sclerosis (ALS), also known as Lou Gehrig's disease. Calling the 24-month waiting period an "arbitrary and cruel restriction," Senator Robert Torricelli (D–N.J.), an author of the bill, remarked that eliminating the waiting period "will mean that no ALS patient will ever again be faced with the indignity of going bankrupt while waiting for Medicare assistance."
Meanwhile, people with other disabling conditions continue to suffer. Bills to end the waiting period were introduced in the 109th Congress in both the House and the Senate, but floor votes did not occur and committee action was not taken. As the 110th Congress begins its work, there is an opportunity to bring new attention to the issue. Senator Jeff Bingaman (D–N.M.) is planning to reintroduce the bill to eliminate the Medicare waiting period.
The stories of suffering and pain and of will and endurance that follow in this report should serve as guideposts for a national policy that offers health care—not delay—to Americans who are struck with disabilities. This report puts a human face on the toll our national policy extracts on the individuals who face delays, expenses, and forgone health care at a time when they are most vulnerable and most in need.
Publication Details
Publication Date:
April 1, 2007
Citation:
R. M. Hayes, D. Beebe, and H. Kreamer, Too Sick to Work, Too Soon for Medicare: The Human Cost of the Two-Year Medicare Waiting Period for Americans with Disabilities, The Commonwealth Fund, April 2007
Experts
Senior Vice President, Health Quality, Universal American Corporation
Communications Manager, Center for Home Care Policy and Research, Visiting Nurse Service of New York