Executive Summary
The New York City Health and Hospitals Corporation (HHC)—the largest municipal hospital and health care system in the United States—serves a diverse and primarily low-income population of 1.3 million, including 400,000 uninsured patients. HHC has weathered financial and management difficulties that gave it a controversial reputation in the past. It has recently achieved notable success in adapting to meet the challenges of its external environment, while also maintaining its core commitment to provide broad access to care without regard to patients' ability to pay or their immigration status. This case study describes how HHC is seeking to transform its organizational culture, systems, and care processes to achieve essential attributes of a high-performing integrated delivery system.
HHC is organized into seven regional networks. A workforce of 39,000 professionals (including 3,000 physicians) provides medical and behavioral care through 11 acute-care hospitals, four skilled nursing facilities, six large diagnostic and treatment centers, one certified home health care agency, and more than 80 community-based ambulatory care satellites. HHC facilities are the primary network of its subsidiary MetroPlus Health Plan, with more than 320,000 members enrolled in public coverage programs. HHC maintains affiliations with several medical and academic institutions in New York City to bring high-caliber physicians into public hospitals and community health centers.
Information Continuity
A common clinical information system links HHC's professional staff and facilities and promotes continuity of care across inpatient, outpatient, and long-term care settings. This system integrates electronic medical records (EMRs), inpatient computerized physician order entry (CPOE), medication management and reconciliation, and other technologies. The system helps improve patient safety, quality, and efficiency by reducing medical errors, improving productivity, and supporting good clinical care. HHC hospitals and networks are spearheading or participating in pilots and initiatives to promote interoperable exchange of clinical information with other community providers.
Care Coordination and Transitions
HHC has made marked improvements in management of chronic diseases such as diabetes and heart failure through collaborative initiatives to spread best practices, educate patients about self-management, designate staff for care management, and implement electronic registries (Exhibit ES-1).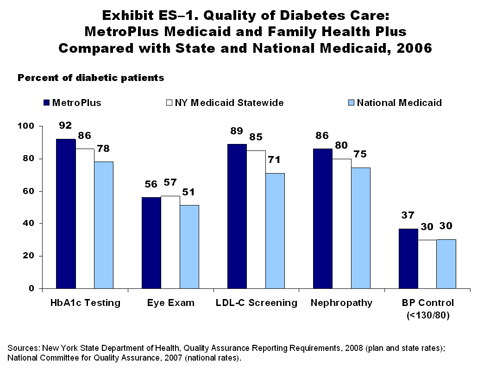 The Queens Health Network reports that about 50 percent of its diabetic patients have their diabetes under control, compared with only 10 percent four years ago. With support from The Commonwealth Fund, the network is evaluating the effectiveness of several diabetes care management models.
Self-management "contracts" with asthma patients and EMR-prompted guidance on medication management have contributed to a 22 percent decline in the rate of pediatric asthma hospital admissions and a 45 percent decline in the rate of adult asthma hospital admissions during the past four years. The Commonwealth Fund supported an evaluation of an "Asthma Buddy" to help pediatric patients manage their symptoms and communicate with physicians.
Using an evidence-based tool embedded in the EMR, primary care physicians (PCPs) screen their patients for depression and make treatment decisions or referrals to behavioral health specialists based on severity scores.
The Commonwealth Fund is supporting a Bellevue Hospital project to test whether emergency room (ER) coordinators can reduce nonurgent ER use by guiding patients to establish relationships with PCPs. Hospitals in Queens are implementing ER coordinators to identify and transition high-risk ER patients to the care of community physicians.
In an effort to reduce hospital readmissions, the Queens Health Network is beginning a pilot in which multidisciplinary "bridge teams" will facilitate comprehensive discharge planning and follow-up for high-risk patients. Heart-failure patients enrolled in an intensive case management program at HHC's Bellevue Hospital Center have experienced one-third fewer hospital readmissions over one year.
HHC is increasing its use of telehealth to remotely monitor homebound patients with serious chronic disease, with promising results among those with diabetes.
HHC operates as an open system with physicians in the community, who can refer patients to the hospital for various services. Community-based physicians in the Queens Health Network can use specialized software to schedule diagnostic tests or specialty appointments for their patients and receive test and consultation reports back. HHC is now rolling out this software across its system.
Teamwork and Continuous Innovation
HHC has undertaken a multiyear campaign to increase patient safety by promoting a fair, just, and open culture of learning, prevention, and accountability. Under its Transparency Initiative, HHC publishes data on infection and death rates at its hospitals. Collaborative initiatives to implement evidence-based practices—embedded in the EMR as standing orders and protocols, or promoted through daily goal-setting and checklists—have been associated with improvements in hospital quality, such as:
outperforming local and national averages on Centers for Medicare and Medicaid Services (CMS) measures of treatment for heart attack, heart failure, and pneumonia, and prevention of surgical infection (Exhibit ES-2);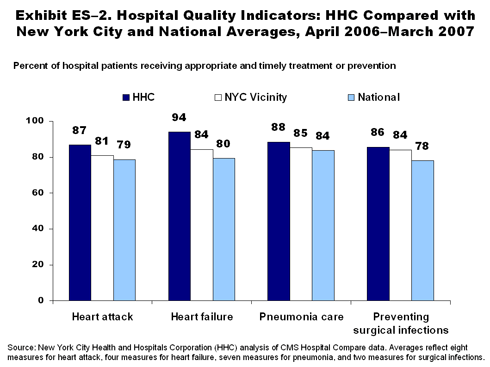 a 55 percent to 78 percent reduction in observed cases of selected hospital-acquired infections in intensive care units (ICUs);
a 50 percent decrease in pressure sores in HHC hospitals; and
an 11 percent lower inpatient mortality rate over five years, saving an estimated 550 lives in 2007 and 1,350 lives since 2003.
Access to Appropriate Care
HHC is committed to offering health care services to New Yorkers regardless of their financial and immigration status. HHC helps its patients enroll in public coverage programs and assists the neediest patients with reduced-fee arrangements. Highlights of other initiatives include:
Collaborative primary care teams designed improvements that reduced waiting times and total visit length to less than 60 minutes at most primary care clinics. "Open-access" scheduling reduced missed primary care appointments by up to 50 percent.
The EMR prompts physicians to offer age-appropriate preventive services during routine clinical visits to promote cancer screening, HIV testing, and smoking cessation. Patient navigators facilitate access to diagnostic and screening tests.
HHC has invested $30 million to expand language services for patients, who speak more than 100 different languages, including medical interpretation training for staff and volunteers, telephonic interpretation services, and multilingual publications and signage. The Commonwealth Fund is supporting evaluation of remote simultaneous medical interpreting at Bellevue Hospital, with positive initial results.
A $1.3 billion capital campaign is modernizing facilities and creating "state-of-the-art therapeutic environments" that promote efficient provision of patient-centered care.
Recognition of Results
Several HHC hospitals and facilities have been recognized for outstanding performance. Accolades include the American Nurses Credentialing Center's Magnet Recognition for Excellence, Healthcare Information and Management Systems Society's Nicholas E. Davies Innovation Award (twice), Hospitals and Health Networks "Most Wired" designation, and the Joint Commission's Ernest Codman Award. CEO Alan D. Aviles was the first public hospital executive to receive the CEO Information Technology Achievement Award from the Healthcare Information and Management Systems Society and Modern Healthcare magazine. MetroPlus Health Plan was the highest-scoring New York City Medicaid managed care plan on quality and satisfaction measures rated by the state's Department of Health (Exhibit ES-3).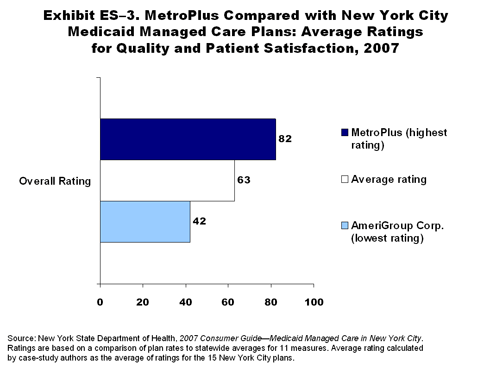 Insights and Lessons Learned
HHC's leaders have learned that organizational transformation requires galvanizing champions and addressing organizational culture issues that are an impediment to innovation and risk-taking. Specific strategies include making use of clinical information systems, using collaborative initiatives to develop internal capacity for improvement, and empowering frontline teams to design and make rapid changes. Operational success comes from aligning financial incentives and management strategy by contracting exclusively with fully capitated managed care plans and expanding relationships with community providers to attract additional Medicaid-insured patients.
Because of its ongoing transformation and improving levels of performance, HHC is increasingly a "provider of choice" for the people of New York City, an organization where concern for clinical quality and the patient experience go hand-in-hand with a commitment to serving those in need. Despite significant successes, HHC continues to face financial challenges serving the uninsured while also competing for insured patients. Garnering resources is critical but must be accompanied by leadership, accountability, motivation, and stakeholder agreement to achieve a commonly held mission.
---

This study was based on publicly available information and self-reported data provided by the case study institution(s). The aim of Fund-sponsored case studies of this type is to identify institutions that have achieved results indicating high performance in a particular area, have undertaken innovations designed to reach higher performance, or exemplify attributes that can foster high performance. The studies are intended to enable other institutions to draw lessons from the studied organizations' experiences in ways that may aid their own efforts to become high performers. The Commonwealth Fund is not an accreditor of health care organizations or systems, and the inclusion of an institution in the Fund's case studies series is not an endorsement by the Fund for receipt of health care from the institution.