Abstract
Issue: Most maternal deaths are preventable, but they have been increasing in the United States. Other high-income countries with success in preventing maternal deaths offer potential lessons for the U.S.
Goals: To compare maternal mortality rates in the U.S. with 10 other high-income countries and identify differences in maternal care workforces, postpartum care access, and paid maternity leave policies that may help account for observed differences.
Methods: Analysis of the latest data from the Centers for Disease Control and Prevention, Organisation for Economic Co-operation and Development, and grey literature.
Key Findings: The U.S. has the highest maternal mortality rate among developed countries. Obstetrician-gynecologists (ob-gyns) are overrepresented in its maternity care workforce relative to midwives, and there is an overall shortage of maternity care providers (both ob-gyns and midwives) relative to births. In most other countries, midwives outnumber ob-gyns by severalfold, and primary care plays a central role in the health system. Although a large share of its maternal deaths occur postbirth, the U.S. is the only country not to guarantee access to provider home visits or paid parental leave in the postpartum period.
Conclusion: The U.S. has a relative undersupply of maternity care providers, especially midwives, and lacks comprehensive postpartum supports.
Background
Although most are preventable, maternal deaths have been increasing in the United States since 2000.1 As U.S. policymakers and health care delivery system leaders seek ways to reverse this trend, countries that have achieved lower maternal mortality rates may offer possible solutions.
This issue brief provides an overview of differences in maternal mortality, maternal care workforce composition, and access to postpartum care and social protections in the U.S. compared to 10 other high-income countries: Australia, Canada, France, Germany, the Netherlands, New Zealand, Norway, Sweden, Switzerland, and the United Kingdom.2 We use the most recently available data from the Centers for Disease Control and Prevention (CDC), the Organisation for Economic Co-operation and Development (OECD), and earlier Commonwealth Fund studies.3
Maternal Mortality and Timing of Deaths
Women in the U.S. are the most likely to die from complications related to pregnancy or childbirth.
In 2018, there were 17 maternal deaths for every 100,000 live births in the U.S. — a ratio more than double that of most other high-income countries (Exhibit 1). In contrast, the maternal mortality ratio was three per 100,000 or fewer in in the Netherlands, Norway, and New Zealand.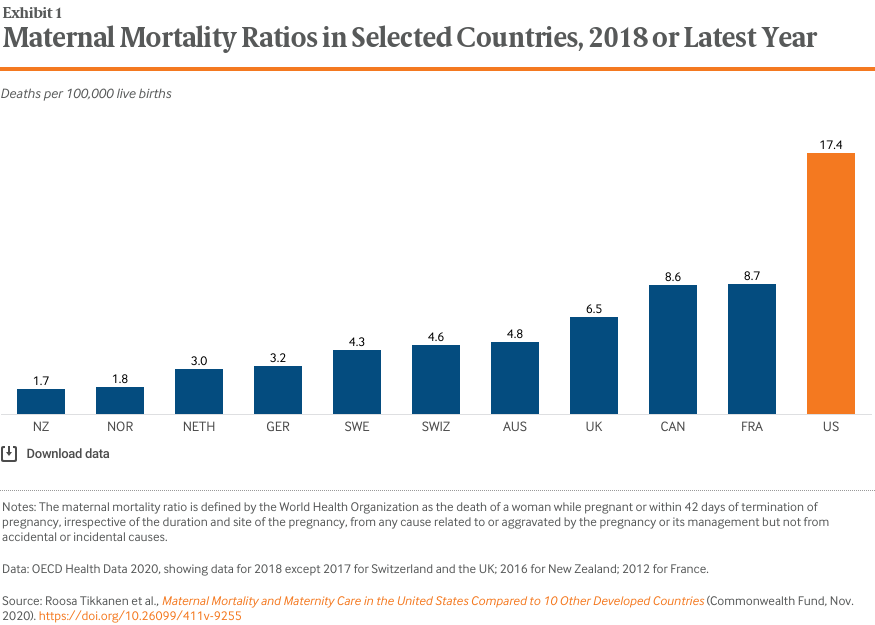 What We Mean by MaternAL Mortality4

There are three commonly used measures of maternal deaths in the United States. While they all capture some aspect of maternal deaths, they are not equivalent.

Pregnancy-associated death: Death while pregnant or within one year of the end of the pregnancy, irrespective of cause.

Pregnancy-related death: Death during pregnancy or within one year of the end of pregnancy from a pregnancy complication, a chain of events initiated by pregnancy, or the aggravation of an unrelated condition by the physiologic effects of pregnancy. Used in the U.S. only, this CDC measure is typically reported as a ratio per 100,000 births.

Maternal mortality: Death while pregnant or within 42 days of the end of pregnancy, irrespective of the duration and site of the pregnancy, from any cause related to or aggravated by the pregnancy or its management, but not from accidental or incidental causes. Used by the World Health Organization (WHO) in international comparisons, this measure is reported as a ratio per 100,000 births.
A relatively large share of pregnancy-related deaths in the U.S. occur after birth.
To better understand the high maternal death rate in the U.S., it is helpful to know when they happen.
Around one-third of U.S. pregnancy-related deaths, counted up to one year postbirth, occur during pregnancy (Exhibit 2).
17 percent of deaths occur on the day of delivery.
52 percent occur after delivery, or postpartum:

19 percent of all maternal deaths occur between one and six days postpartum.
21 percent of all maternal deaths are between one and six weeks postpartum.
12 percent of all maternal deaths take place during the remaining portion of the year; these are also known as late maternal deaths.5
In the first week postpartum, severe bleeding, high blood pressure, and infection are the most common contributors to maternal deaths, while cardiomyopathy is the leading cause of late deaths.6 Previous research indicates that U.S. women experience more late maternal deaths than women in other high-income countries.7
Differences in Care During Pregnancy, Labor, and Delivery
The U.S. has an overall shortage of maternity care providers relative to the number of births.
Midwives in many countries are key care providers trained to provide a wide range of services. Among these are helping to manage a normal pregnancy, assisting with childbirth, and providing care during the postpartum period. Placing a priority on natural reproduction processes and relationship-building, midwives also can help address the social and personal needs of mother, baby, and family.8 Ob-gyns, meanwhile, are physicians trained to identify and intervene in abnormal conditions that come up before, during, and after pregnancy. They typically provide care in hospital-based settings.
Midwifery-led care models have been shown to provide care that is comparable to, or sometimes even better than, that provided by obstetrician-gynecologists, or ob-gyns (see box).9
The U.S. and Canada have the lowest overall supply of midwives and ob-gyns — 12 and 15 providers per 1,000 live births, respectively (Exhibit 3). All other countries have a supply that is between two and six times greater.
What Does the Evidence Say About the Relationship Between Midwifery Care and Birth Outcomes?

The World Health Organization (WHO) recommends midwives as an evidence-based approach to reducing maternal mortality.10 Several systematic reviews have found that midwifery-led care for women with healthy pregnancies is comparable or preferable to physician-led care in terms of11:

Maternal (mother) and neonatal (baby) outcomes, including lower maternal mortality and morbidity and reduced stillbirths and preterm births.
More efficient use of health system resources, including lower use of unnecessary and potentially harmful interventions like C-sections for low-risk deliveries, epidurals, and instrument-assisted births.
Improved patient satisfaction and maternal psychosocial well-being outcomes, including those for postpartum depression.

Some experts note that "high-income countries with the lowest intervention rates, best outcomes, and lowest costs have integrated midwifery-led care" into their health care systems.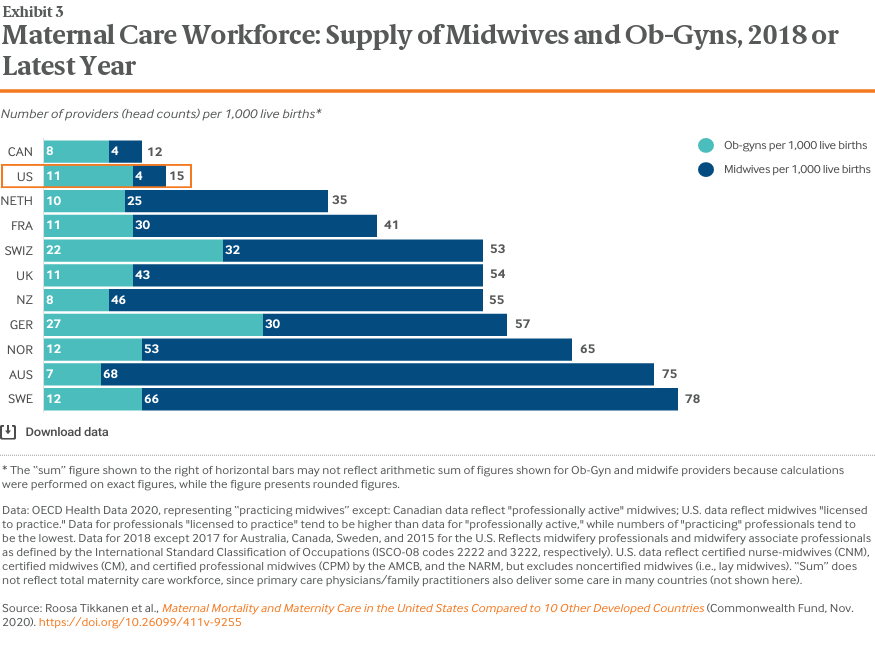 Cross-Country Differences in the Type and Supply of Maternity Care Providers
In the U.S. and Canada, ob-gyns outnumber midwives. The American College of Nurse Midwives claims that the "U.S. maternity workforce is upside down relative to patient needs,"12 noting that the majority of births are low-risk and could be managed by midwives, family practitioners, or general practitioners.13 In several countries, including Canada, France, and New Zealand, primary care physicians also play a large role (although comparative international data are lacking).
In most other countries, however, midwives greatly outnumber ob-gyns. For example, midwives provide most prenatal care and deliveries in the U.K. and the Netherlands14 — countries considered to have among the strongest primary care systems in Europe.15 Dutch midwives also deliver home births, which represent 13 percent of all births, the highest rate of any developed countries.16
In some countries, women can choose their maternity care provider, as both midwife and obstetrician care services are covered by universal health insurance. In England, care may be shared between midwives and obstetricians.17
In the U.S., midwife services are not uniformly covered by private insurance plans. This is particularly the case when services are provided in nonhospital settings, like the home or a birthing center.18 And while the Affordable Care Act (ACA) requires that state Medicaid programs cover midwifery care, the supply of providers is often so low that beneficiaries are often unable to access these services. Several factors, which can vary widely from state to state, may be limiting the supply of midwives in the U.S. Among these are the state licensure laws, restrictive scope-of-practice laws, and rules requiring physician supervision of midwives.19
Maternal Care After Delivery
Access to home visits after delivery varies in the U.S. but is guaranteed in other countries.
Postpartum care is intended to ensure the physical and emotional recovery of mothers and their babies.20 Home visits by a midwife or a nurse are associated with improved mental health and breastfeeding outcomes as well as reduced health care costs.21 All countries, apart from the U.S., guarantee at least one such visit within one week postpartum, although some U.S. states provide these for Medicaid beneficiaries (Exhibit 4).22 Home visits give providers an opportunity to address mental health concerns and allow them to assess social determinants of health, including needs for food, housing, financial security, and protection from domestic violence.23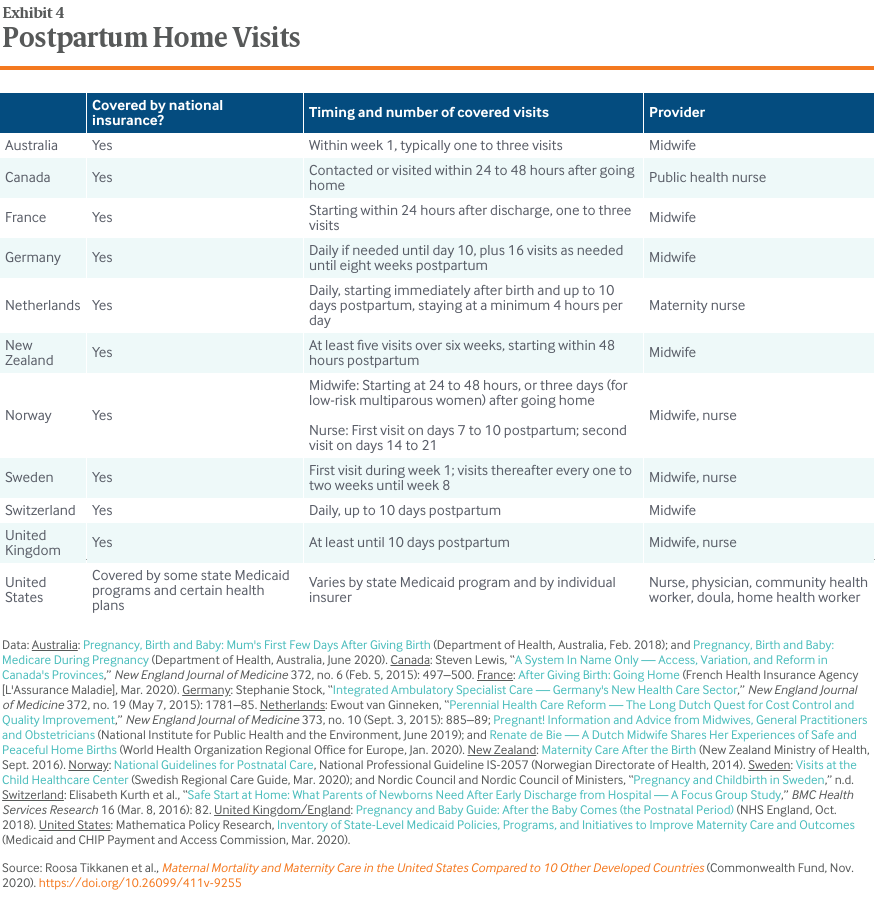 The U.S. is the only high-income country that does not guarantee paid leave to mothers after childbirth.
Maternity leave helps women manage the physiological and psychological demands of motherhood and helps ensure financial security for families.24 All countries included in this study, apart from the U.S., mandate at least 14 weeks of paid leave from work. And several countries provide more than a year of maternity leave (Exhibit 5).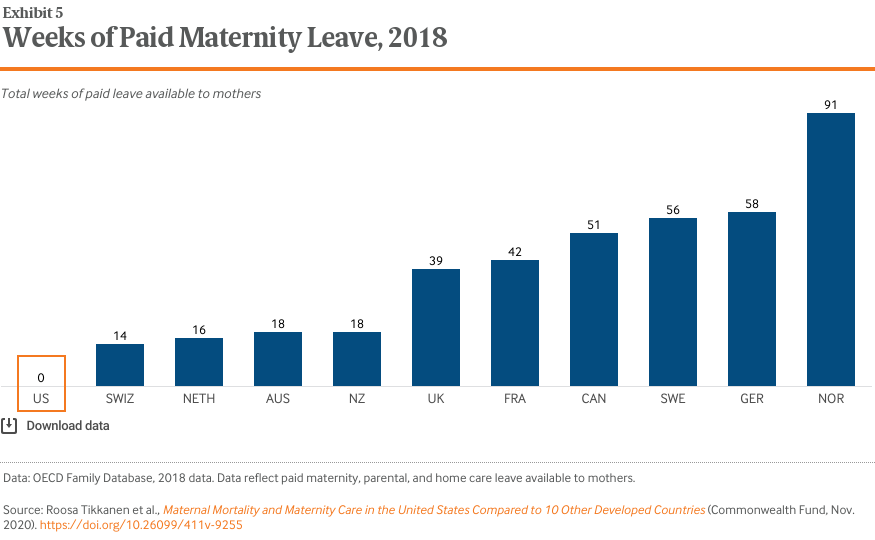 Policy Implications
While the reasons behind the high U.S. maternal mortality rate are multifaceted, our findings suggest that an undersupply of maternity providers, especially midwives, and lack of access to comprehensive postpartum supports are contributing factors.
Midwifery care. In most countries, maternity care is well integrated with other primary care, and midwives play an important role. Some U.S. states have strengthened access to midwives and achieved positive outcomes.25 During the COVID-19 pandemic, as demand for midwifery care has grown in the U.S. (as it has around the world), several states issued emergency orders expanding midwifery services to pregnant women, including Maine, New Jersey, and New York.26
While the ACA requires Medicaid to pay for midwifery care provided in freestanding birth centers, more needs to be done to expand access to services and make them more affordable. Among the key issues to address are state variations in scope-of-practice rules for health care practitioners, low reimbursement rates for midwives, and payment parity.27
Countries also have rapidly reorganized their maternity care delivery systems during COVID-19 to expand use of telemedicine and the capacity to provide home births.28 To strengthen maternity care during the pandemic, the U.S. could look to countries with long-standing experience in home births and midwifery-led care.
Insurance coverage. Universal, comprehensive maternity care coverage, along with exemptions from cost-sharing, also are the norm in other high-income countries.29 While the ACA strengthened maternity care coverage, access to benefits often depends on type of insurance and geographic location, and out-of-pocket costs vary significantly as well.30
How the Affordable Care Act Has Helped Women Gain Access to Maternity Care

Guaranteed issue: Insurers are no longer allowed to deny coverage to individuals who apply for insurance, including those with preexisting conditions.* Preexisting conditions specific to women include pregnancy, having had a C-section, and having been a victim of rape or domestic violence.
Community rate-setting for premiums: Insurers are no longer allowed to charge women higher health care premiums than they charge men. This was a previously common practice, as women were anticipated to have higher health care costs, especially around child-bearing years. Because of the ACA, insurers are only allowed to charge higher premiums based on age and tobacco use.*
Free preventive services: Insurers must provide preventive services such as breast cancer screening, cervical cancer screening, FDA-approved contraceptives, and osteoporosis and chlamydia screening for women in at-risk age groups, without copayments, coinsurance, or other cost-sharing.*
Essential health benefits: All individual marketplace or small-group insurance plans must cover 10 essential health benefits,* including maternity coverage.
Support for new mothers: Employers with at least 50 workers must allow nursing women reasonable breaks from work to express breast milk and must provide a private place to do so for the first year after a child's birth.
Expanded Medicaid eligibility: Individuals with incomes up to 138 percent of the federal poverty level can enroll in Medicaid, though this has been left up to states' discretion.* Thirty-eight states and the District of Columbia have opted to expand their Medicaid program.
Premium subsidies for low-income women: Premiums subsidies are available for all individuals earning up to 400 percent of the federal poverty level ($51,040 for an individual and $104,800 for a family of four in 2020) for the purchase of individual marketplace coverage.*
Coverage for young women: Young adults can stay on a parent's plan until their 26th birthday.* Before the ACA, young women 19 to 25 were uninsured at some of the highest rates.31
Use of nurse midwives and freestanding birth centers: State Medicaid programs must include both as covered benefits. In addition, reimbursement for midwives was increased to the amount physicians receive for providing the same service.
Creation of Maternal, Infant, and Early Childhood Home Visiting Program: Some 154,000 parents and children in 1,005 U.S. counties receive home visits through the program.32

* Also applies to men.
Postpartum care. Since more than half of maternal deaths occur after birth, strengthening postpartum care should be a priority. The World Health Organization recommends at least four health contacts in the first six weeks, yet U.S. women typically have a single office-based physician visit within this period, and some don't have one at all.33
Expanding eligibility for Medicaid, which pays for 43 percent of U.S. deliveries, can lead to more stable postpartum coverage.34 Currently, however, the program's coverage extends to only six weeks postpartum. Some states are expanding coverage up to one year, in line with recommendations by maternal mortality review committees and others.35
Paid leave. The U.S. is the only high-income country that does not guarantee all mothers paid maternity leave,36 although a few states have recently introduced some paid leave.37 Women receiving paid leave use fewer health care services compared to women with only unpaid leave.38
Racial disparities. The high maternal mortality rate in the U.S. masks dramatic variation by race and ethnicity: the number of deaths per 100,000 births for black non-Hispanic women in 2018 (37.1) was more than two times higher than that for white mothers (14.7). Hispanic women have the lowest rate (11.8).39 The pandemic has the potential to exacerbate existing U.S. racial disparities in maternal outcomes, as Black and Latino people have faced higher rates of economic hardship and mental health problems during the pandemic compared to their white counterparts.40
These disparities are not unique to the U.S., however. In the U.K., which has universal health coverage, maternal deaths were five times more common among Black women in the prepandemic period and two times more common among Asian women.41 Achieving equity in maternal outcomes remains a global challenge.
The well-being of mothers and babies should be a top policy priority in all countries. In the U.S., where maternal health outcomes are poor relative to many other parts of the world, policymakers and delivery system leaders can examine international models of maternity care to inform strategies for improvement.
How We Conducted This Study

This analysis used data from the 2020 release of health statistics compiled by the Organisation for Economic Co-operation and Development (OECD), which tracks and reports on a wide range of health system measures across 37 high-income countries. Data on maternal mortality ratios, supply of midwives, and supply of ob-gyns were extracted in August 2020. While the information collected by the OECD reflect the gold standard in international comparisons, it may mask differences in how countries collect their health data. Full details on how indicators were defined, as well as country-level differences in definitions, are available from the OECD.

We used the latest data from the Centers for Disease Control and Prevention's (CDC) Pregnancy Mortality Surveillance System on the timing of maternal deaths in the U.S. While international data are available regarding timing of maternal and pregnancy-related deaths, findings for the U.S. did not correspond with the latest data from the CDC. Because of potential data comparability concerns, we omitted these findings from our formal analysis.

Data on postpartum home visits were compiled from a variety of country-specific sources, as specified in the notes to Exhibit 4, including a series of patient vignettes of a healthy 23-year-old woman who is pregnant for the first time, funded by the Commonwealth Fund and published in the New England Journal of Medicine in 2015.42

Data on paid maternity leave are from the OECD's Family Database.

The 10 comparator countries included in this brief represent those high-income countries that take part in the Commonwealth Fund's annual International Health Policy Survey: Australia, Canada, France, Germany, the Netherlands, New Zealand, Norway, Sweden, Switzerland, and the United Kingdom.
Acknowledgments

The authors wish to thank Dr. Jodie D. Katon, Dr. Eugene Declercq, and Reggie Williams II for their helpful review comments; and Jesse Baumgartner and Gabriella N. Aboulafia for their careful data review.