Full text is available at:
http://content.healthaffairs.org/cgi/content/abstract/
27/5/1246?ijkey=CH.hWlq1HBaiA&keytype=ref&siteid=healthaff
In the Literature
Synopsis
A study of 291 large medical group practices (i.e., those with more than 20 physicians) finds that adoption of medical home infrastructure is low, with very large groups having the highest levels of adoption.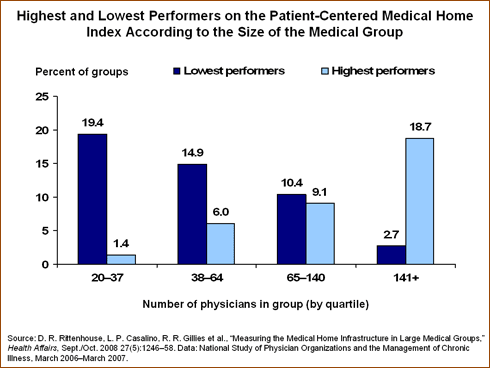 The Issue
The U.S. health care system delivers, and pays for, care that is disorganized, fragmented, and lacking on many measures of clinical quality. The patient-centered medical home (PCMH) represents an attempt to address these issues through the provision of comprehensive, coordinated, and accessible care. However, the extent to which medical practices have adopted the model—and have the infrastructure in place to do so—is not known.
---
Addressing the Problem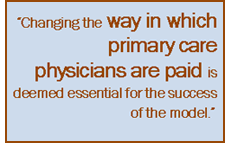 The PCMH model faces several challenges to widespread adoption. The first is the development of standard measurement data, although the National Committee for Quality Assurance and similar organizations have begun to take the lead in this area. Implementation also involves costs. Changing the way primary care physicians are paid, by aligning incentives, paying for coordinated and integrated care, and rewarding high performance, is essential for success.
---
The Bottom Line
The level of adoption of PCMH infrastructure components among large medical groups is low, although there was wide variation among practices. In general, very large organizational size is strongly associated with greater PCMH structure. Ownership by a larger entity—a hospital or HMO—is associated with increased PCMH infrastructure compared with physician-owned groups.
Publication Details
Publication Date:
September 1, 2008
Author:

Diane R. Rittenhouse, M.D., M.P.H., Lawrence P. Casalino, M.D., Ph.D., Robin R. Gillies, Ph.D., Stephen M. Shortell, Ph.D., M.P.H., and Bernard Lau
Citation:
D. R. Rittenhouse, L. P. Casalino, R. R. Gillies et al., "Measuring the Medical Home Infrastructure in Large Medical Groups,"
Health Affairs,
Sept./Oct. 2008 27(5):1246–58.