The full-text article is available at:
http://content.healthaffairs.org/cgi/content/abstract/hlthaff.28.3.w490?ijkey=s9siD6/cY2nhw&keytype=ref&siteid=healthaff
Synopsis
A study of approximately 3,400 U.S. primary care physicians found that two-thirds were unable to obtain outpatient mental health services for their patients—more than double the proportion of physicians who reported difficulty accessing other specialists or common outpatient services. Doctors cited a shortage of providers, lack of health insurance, and health plan barriers as hurdles in getting their patients necessary mental health care.                                                              
---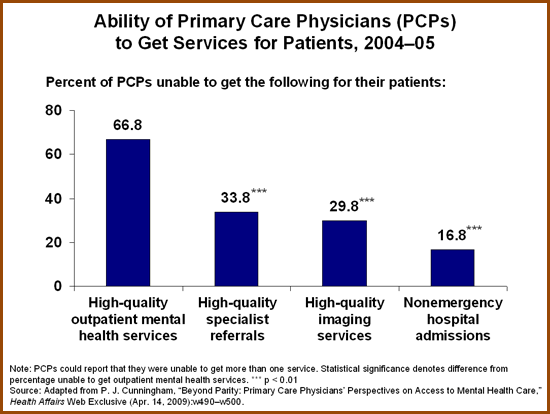 ---
The Issue
It is estimated that only about one-third of individuals needing mental health services actually receive them. A range of factors limit access to mental health care, including the social stigma associated with mental illness, inadequate funding for community-based services, lack of insurance coverage, and a shortage of providers. Studies suggest that more patients seek mental health treatment from their primary care physician rather than a mental health professional. This study was undertaken to find out from physicians themselves what barriers their patients face in obtaining outpatient mental health services.
---
Key Findings
Two-thirds (67%) of physicians responding to the study said they were unable to obtain quality mental health services for their patients; more than double the rate for other common services, including specialist consultations, nonemergent hospital admissions, and imaging services.
Physicians reporting difficulty in securing services for their patients cited a lack of insurance coverage, or having inadequate coverage, as a very important reason 59 percent of the time, while a similar proportion cited a lack of providers as very important. Fifty-one percent of doctors cited barriers posed by health plan provider networks and administrative requirements as very important.
When compared by specialty, pediatricians were more likely than other primary care physicians to respond that lack of providers was an obstacle. Inadequate coverage was not as much of a cause for children as it was for adults.
Primary care physicians with a larger number of charity care patients were more likely to have difficulty receiving outpatient mental health services than those who provided less charity care. The number of Medicaid patients did not have a major affect on access.
In states that have enacted mental health parity legislation, physicians were slightly less likely to report plan barriers and inadequate coverage as challenges than in states where there were no parity laws.
---
Addressing the Problem
National health parity legislation will reduce some, but not all, of the barriers to providing quality mental health treatment, as the dynamics of mental health care access vary. Policymakers and others should focus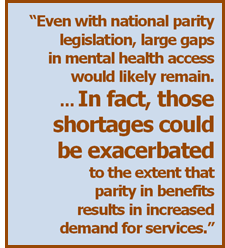 on ensuring adequate health coverage as well as an adequate supply of providers in local communities.
---
About the Study
The author analyzed data from the 2004–05 Community Tracking Study Physician Survey, which includes a nationally representative sample of about 6,600 practicing U.S. physicians. The response rate to the telephone survey was approximately 52 percent. A subsample of 2,900 primary care physicians was included. Respondents were queried as to whether they were able to obtain specific medically necessary services for their patients over the past year, one of which was high-quality outpatient mental health services. Physicians whose patients had difficulty obtaining mental health treatment were asked if the following factors contributed to the problem: lack of qualified providers, health plan networks and administrative barriers, and lack of insurance or inadequate coverage.
---
The Bottom Line
Lack of access to mental health care providers is a serious problem—one that will not be solved by national mental healthy parity legislation alone.