Full text is available at:
http://www.springerlink.com/content/9w7551142t46n30w/
Synopsis
A survey of physicians at primary care practices in Massachusetts found that larger, network-affiliated practices are more likely than smaller, non-affiliated practices to have adopted some of the capabilities necessary to become patient-centered medical homes. Smaller practices may require a greater investment of resources to become patient-centered medical homes.
---
The Issue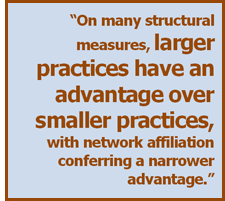 Interest in improving quality of care has driven efforts to develop the patient-centered medical home (PCMH) model. However, readiness to implement the reforms necessary for establishing a PCMH—including greater coordination of care, ongoing efforts to improve quality and safety, and enhanced access—varies widely among practices. Certain kinds of practice characteristics, like the number of physicians and network affiliation, may be more closely associated with having the needed capabilities in place.
---
Key Findings
The most common capabilities established by practices included: respondents being aware of results on clinical quality measures (88%), reminders for guideline-based preventive care (87%), and initiatives to improve results on measures of clinical quality (73%).
The least common capabilities included: practices that were regularly open to provide care on weekends (24%), on-site interpreter services (32%), and frequent meetings to discuss quality (43%).
Compared with smaller practices, larger practices were more likely to report nine capabilities across four domains: patient assistance and reminders, culture of quality, enhanced access, and electronic health records. Network-affiliated practices were more likely than non-affiliated practices to have five capabilities in three domains.
Larger practice size and network affiliation were both associated with higher prevalence of capabilities in three areas: feedback and improvement infrastructure, linguistic capabilities, and use of electronic health records.
---
Addressing the Problem
Small, non-affiliated physician practices may require the largest investments to achieve PCMH designation. Strong financial or regulatory incentives could encourage smaller practices to grow, merge, or affiliate with networks. If small practices find it too difficult to make structural changes, however, areas predominately served by small practices could suffer from reduced access. As PCMH pilot programs move forward, policymakers will need to monitor their effects on both quality and access to primary care.
---
About the Study
The authors selected adult primary care practices from the 2004–2005 Massachusetts Health Quality Partners physician directory to survey physicians about the presence of quality-enhancing structural capabilities in their practices. The authors defined 13 key capabilities in four domains: patient assistance and reminders (e.g., clinical reminder systems), culture of quality (e.g., feedback to physicians on quality and patient experience), enhanced access (e.g., regular appointment hours on weekends), and electronic health records (e.g., advanced features). The final sample consisted of 412 practices; the survey was conducted from May to October 2007.
---
The Bottom Line
Larger and network-affiliated practices are likely to be the most ready to meet the standards for a patient-centered medical home, but providing targeted resources could help smaller, non-affiliated practices adopt necessary measures and improve quality of care.
Publication Details
Publication Date:
January 1, 2009
Citation:
M. W. Friedberg, D. G. Safran, K. L. Coltin et al., "Readiness for the Patient-Centered Medical Home: Structural Capabilities of Massachusetts Primary Care Practices," Journal of General Internal Medicine, published online Dec. 3, 2008.
Experts
Chief Performance Measurement & Improvement Officer and Senior Vice President, Enterprise Analytics, Blue Cross Blue Shield of Massachusetts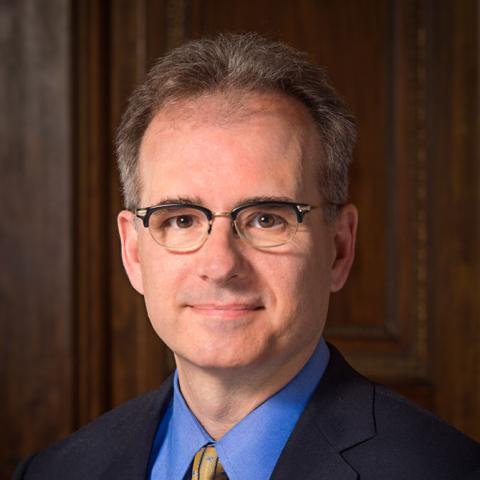 Senior Vice President for Policy and Research, The Commonwealth Fund