An abstract is available at:
http://cpj.sagepub.com/cgi/content/abstract/48/1/32
Synopsis
Although many low-income parents with small children have basic social needs—including employment, education, and child care—pediatric care providers do not routinely screen parents for them at well-child visits, according to this study of low-income parents and resident providers at a Baltimore pediatric clinic. Providers agree, however, that it is important to screen for and address such needs.
---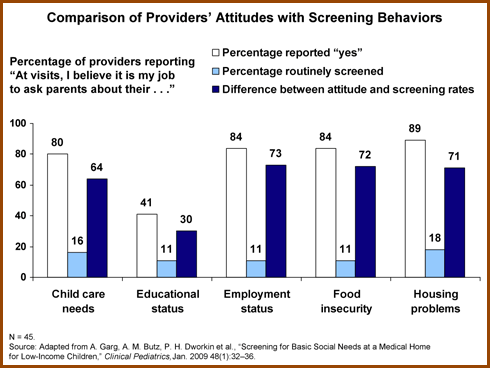 ---
The Issue
During medical visits, pediatric providers have an opportunity to screen parents for basic social needs—among them, employment, parental education, child care, food, and housing—which directly affect children's health and development. No prior studies have examined low-income parents' attitudes toward having their child's pediatrician screen for such needs. Further, it is not known how providers feel about conducting such screenings.
---
Key Findings
Parents participating in the study reported a median of two basic social needs at the pediatric visit, the most common being employment (52%), followed by education (34%), child care (19%), food insecurity (16%), and housing (10%).
Most parents (67%) had positive attitudes about requesting assistance from their child's pediatrician
Most pediatric resident providers agreed that screening for family social needs was important (91%) and effective (98%). All reported it was their responsibility to ask parents about social problems.
Few residents (range of 11% to 18%) routinely screened for basic family needs, revealing a large discrepancy between residents' attitudes and actions.
---
Addressing the Problem
Barriers to screening families for social needs include lack of time, professional training, and knowledge of community resources. Developing pediatric training curriculum that teaches residents to address families' basic needs is critical. New practice-based models for vulnerable children should be developed that emphasize routine screening of basic social needs and referral to community resources, such as employment centers and food banks.
---
About the Study
The study used baseline data collected from 100 parents of children ages 2 months to 10 years who met in 2006 with a pediatric resident for a well-child care visit at a pediatric clinic at a Baltimore teaching hospital. Parents completed a written questionnaire that screened for family psychosocial needs and asked about their willingness to request help with social problems from pediatricians. Most of the parents were African American (96%) and mothers (86%), and most reported household incomes of less than $30,000 (79%) and received Medicaid insurance (89%). Forty-five pediatric residents, who were the primary care providers, completed a written survey assessing their attitudes and behaviors about psychosocial screening.
---
The Bottom Line
Many low-income families have basic social needs, from employment to child care to food, and are willing to ask for assistance from their child's pediatrician. Providers feel a responsibility to assist families, yet few routinely screen for these critical social needs.
Publication Details
Publication Date:
March 26, 2009
Author:

Arvin Garg, M.D., M.P.H., Arlene M. Butz, ScD., R.N., Paul H. Dworkin, M.D., Rooti A. Lewis, B.A., and Janet R. Serwint, M.D
Citation:
A. Garg, A. M. Butz, P. H. Dworkin et al., "Screening for Basic Social Needs at a Medical Home for Low-Income Children," Clinical Pediatrics, Jan. 2009 48(1):32–36.