Synopsis
Nursing homes engaged in "culture change" to become more resident-centered in their approach achieve higher occupancy rates and increased revenue, according to a study comparing culture change adopters with a comparison group of traditional nursing homes. Over the four-year study period, homes undergoing culture change realized an additional 3 percent in occupancy and over $11 per bed per day in extra revenue.
---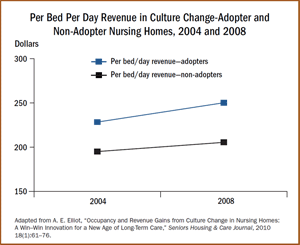 The Issue
In the nursing home field, culture change refers to the process by which facilities transform themselves from traditional, hospital-like institutions into resident-centered homes, where quality of life is the first priority. Anecdotal accounts and empirical studies alike show improved resident outcomes and greater resident and staff satisfaction from culture change activities, which may include allowing residents flexibility in their sleep and dining schedules, eliminating nursing stations and introducing other environmental improvements, and ensuring consistency in staffing. Less apparent is whether such changes produce positive financial results as well. This Commonwealth Fund–supported study compared nursing homes that have adopted culture change with a control group to determine the impact on occupancy rates and revenue.
---
Key Findings
From 2004 to 2008, nursing homes in the adopting group experienced a modest but significant improvement in occupancy compared with the control group. Both groups had occupancy rates of 86 percent before culture change was implemented in 2004, but by 2008, the occupancy rates of adopter homes increased to 89 percent, while those in the control group remained at 86 percent.

Revenue increased significantly for adopter homes when compared with control-group homes. Implementing culture change resulted in an additional $11.43 per bed per day for a 140-bed nursing home. This translates to an additional $584,073 in revenue per year for the adopter home.
---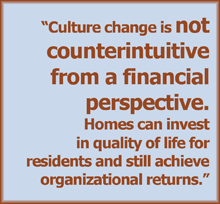 Addressing the Problem
Findings from this study support the theory that culture change implementation can produce improved financial returns, like increased occupancy and revenue. While culture change requires nursing homes to invest time, resources, and money, revenue generation has the potential to offset those investments and contribute to positive returns. The author points out that the Patient Protection and Affordable Care Act includes a provision outlining a national demonstration project on culture change. "With increasing levels of support for culture change in policy, a paradigm shift from an institutional to a person-centered model of care in nursing homes is plausible, if not inevitable, in the near future," she concludes.
---
About the Study
Experts in culture change were asked to identify facilities that "best exemplified homes engaged in sustained culture change innovation." This was defined as homes engaged in change for two years or more in key areas of care practice, environment, and workplace. Adopters were compared with a control group of similar homes on two variables: occupancy, percentage of beds occupied, and revenue per bed per day. Data are from 2004, pre-culture change, and 2008, after adopters had been engaged in culture change for at least two years.
---
The Bottom Line
Nursing homes engaging in culture change can not only improve their residents' quality of life, but can also achieve better financial returns.