Synopsis
While accountable care organizations (ACOs) hold promise to provide better overall patient care at lower cost, it appears that vulnerable individuals, including disadvantaged racial minorities, people with low incomes, and medically complex patients, may not have the same access to ACOs as others. New financing strategies, performance measurement techniques, and technical assistance programs will be essential to ensuring that all populations are able to benefit from these new health care organizations.
---
The Issue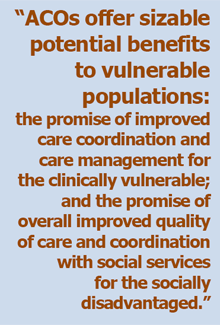 The accountable care organization is a health care delivery and payment model designed to reduce costs while improving quality. In an ACO, a group of providers is collectively held accountable for the cost and quality of care of a defined patient population. There are concerns, however, that vulnerable populations may experience more difficulty gaining access to ACOs than would more advantaged groups. That is because the health care providers treating racial minorities, low-income individuals, and people lacking social supports often lack the capital, capability, and payer support to form and run these organizations. Medically complex patients may face similar challenges, especially if ACOs discourage or avoid enrollment of sicker patients—either for lack of resources or for fear that providing needed services will undermine efforts to meet cost or quality targets. The authors of this Commonwealth Fund–supported article present strategies that payers and policymakers can use to overcome these obstacles.
---
Key Findings
Startup funds provided to small or underfinanced health systems would allow investments in infrastructure, including information systems, needed to provide ACO services like care coordination. For example, the Medicare Advance Payment Initiative makes upfront payment available to smaller organizations, including rural and physician-based ones, so they can participate in the Medicare Shared Savings Program.
Medicaid could launch demonstration projects to encourage the formation of ACOs among health care providers and systems that might not otherwise have viable payers to partner with; in addition, regional collaboratives could allow small providers to meet necessary patient population thresholds collectively.
Appropriate risk adjustment that brings spending targets in line with an ACO's patient mix may encourage ACOs to care for medically complex patients, while carefully designed financial rewards will help ensure that ACOs caring for more challenging populations are able to succeed. Safety-net ACOs also may need assistance implementing health information technology and care management protocols.
Sophisticated performance measurement tools can help ACOs identify high-risk patients and intervene to achieve better care at lower cost. To monitor whether vulnerable patients are being avoided or dropped, it will also be important to track beneficiary complaints and disenrollments. In addition, timely evaluations of ACO programs may reveal how clinically at-risk and socially disadvantaged groups are being incorporated into ACOs.
---
Addressing the Problem
To implement these strategies, public and private payers may wish to look to existing ACO initiatives, including the Medicare Shared Savings Program, which has provided startup funding to smaller organizations and developed sophisticated risk-adjustment models and reward systems. Additional guidance is available from the Premier Hospital Quality Incentive Demonstration; the Safety Net ACO Readiness Assessment tool, developed by the University of California, Berkeley; and Minnesota's Health Care Delivery System Demonstration.
---
The Bottom Line
Strategies that support ACO formation in diverse settings as well as the monitoring, measuring, and rewarding of provider performance may help to ensure that the nation's most vulnerable patients have access to the higher-quality, lower-cost care that ACOs are designed to achieve.