With unemployment at its highest level in years, a Commonwealth Fund analysis finds that only a small proportion of laid-off workers—9 percent—purchases health insurance coverage under the COBRA law, which allows laid-off workers to retain their employer-based coverage but requires them to pay both the employer and employee shares of the insurance premium.
Premium payments under COBRA (Consolidated Omnibus Budget Reconciliation Act) are about four to six times higher than the amount laid-off workers contributed to their health insurance when they were employed. According to Fund researchers, unemployed workers who lose their health insurance would need substantial financial assistance—covering 75 to 85 percent of their health insurance premiums—for their contributions to remain at the levels they paid while they were working.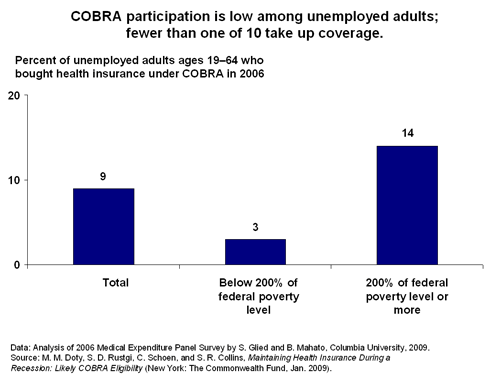 The analysis, prepared by Michelle M. Doty, Ph.D., and colleagues at the Fund, finds that low-wage workers are at a particular disadvantage. Many don't have health insurance through their job—or any insurance at all—or they work for small firms that aren't required to offer COBRA. To reach more low-income workers and their families, researchers recommend that policymakers consider temporarily expanding Medicaid and SCHIP eligibility to unemployed adults with low incomes and provide assistance with premium costs.
"The number of uninsured Americans could grow markedly during this recession unless we take action to help unemployed Americans keep their health care coverage," said Fund president Karen Davis.