Vermont's Blueprint for Health is a statewide, public–private initiative designed to reduce the health and economic impacts of common chronic conditions. The Blueprint Integrated Pilot Program, implemented in two communities in 2008 with an additional county to begin this year, is testing a patient-centered medical home approach that includes health care financing, clinical operations, public health prevention, and health information systems. A key component is a multidisciplinary "Community Care Team" that provides support and expertise to participating medical practices through direct services and care coordination, population management, and quality improvement activities. Health information technology and statewide prevention campaigns support these community-based efforts.

"It is clear that you have to have both health care delivery and public health working together as part of the process, or else neither will succeed," said Lisa Dulsky Watkins, M.D., assistant director, Blueprint for Health.

Community Care Teams
Each of the pilot's CCTs includes clinical staff selected to address community needs and a public health prevention specialist based in the local Department of Health District Office (Figures 1 and 2). The prevention specialist works with other team members and community stakeholders to:
guide community assessments—including both quantitative and qualitative evaluations—of the risk factors and conditions contributing to the prevalence and morbidity from chronic disease;
based on priorities identified in the community assessment, build consensus among key stakeholders for a plan of targeted public health interventions; and
implement interventions and evaluate their effect on the prevalence and impact of chronic disease.1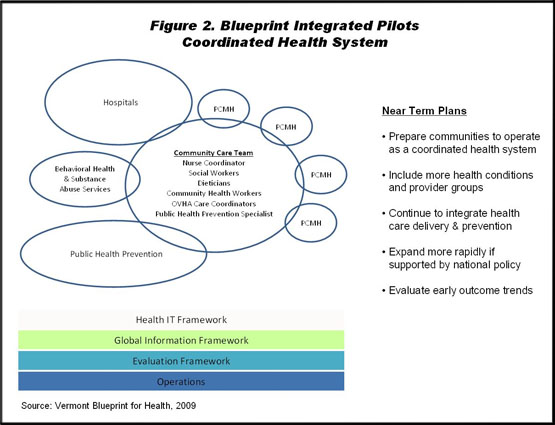 Planners believe that prevention programs developed collaboratively by public health and health care delivery specialists are more likely to be adopted by both sectors and to have an impact than programs developed in just one of the sectors. In developing the community risk profile, the prevention specialist is supported by state data sources, including vital statistics (e.g., death reports), hospital discharge data, census data, behavioral risk factor surveillance data, survey of the prevalence of tobacco use, highway safety data (e.g., reports of alcohol-related accidents), and labor statistics. The communities are merging elements from these various databases to form multidimensional data sets that will provide rich indicators of the health of the population. Eventually, the merged data can be used to help plan and evaluate the effectiveness of community interventions. Over time, the state will track the indictors to determine the risk factors most closely associated with hospitalizations and health care expenditures.

While CCTs are piloted in three health counties or health districts, another three Vermont districts are receiving support to move toward "integrated health systems." Their activities include hiring a nurse care coordinator and updating information systems in practices to be compatible with the state registry (described below). Further, the legislature approved an additional $1 million to help the remaining six health districts engage in similar activities to lay the groundwork for adoption of CCTs and medical homes. Local hospitals are providing further resources. A public health prevention specialist will complete the assessment, planning, and implementation phases in each of the 12 health districts throughout the state.

Electronic Treatment Guidance, Patient Registry, and Tracking System
Another major component of Vermont's Blueprint for Health initiative is development of health information infrastructure that will facilitate high-quality health care as well as statewide reporting to track the health of the population (see August/September 2008 Snapshot on Vermont's Patient Registry and Tracking System ). The state's plans for use of information technology mirror the CCT model in its effort to bridge public health and health care delivery. At no cost to health care providers, the state is offering a Web-based clinical system that informs treatment decisions (based on evidence-based guidelines), facilitates electronic prescribing, and enables practice-level reporting of data on patient populations and outcomes to the state. The system also establishes a repository of common data elements, enabling communities and the state to track population health and evaluate the effectiveness of improvement interventions.

Healthier Living Initiatives
The Blueprint initiative also sponsors Healthier Living Workshops that target people with arthritis, asthma, heart disease, chronic pain, and other chronic conditions. The free six-week workshops offer tools to deal with frustration, fatigue, and pain; improve strength, flexibility, and endurance; manage medications; improve communication with family, friends, and health providers; and eat healthier.

Also, the Fit & Healthy Vermonters Initiative builds on the Blueprint for Health by seeking to prevent obesity through promotion of physical activity and healthy eating. The initiative engages communities and encourages activities at schools, worksites, early childcare sites, and other settings.
1. Vermont Department of Health, Vermont Blueprint for Health, 2008 Annual Report, p. 5.