Good morning, we are Danielle Holahan and Peter Newell, senior health policy analysts at United Hospital Fund, and Cathy Schoen, senior vice president at The Commonwealth Fund. We thank you for this opportunity to address the subject of increasing health insurance coverage in New York State. Our organizations have spent many years analyzing issues related to health insurance coverage expansion, including our two-year collaborative to develop A Blueprint for Universal Health Insurance Coverage in New York. With this background, and reflections from the previous "Partnership for Coverage" hearings, we offer our comments on key issues to consider with regard to designing approaches to universal coverage in New York State.
According to the United Hospital Fund's most recent analysis, 59 percent of non-elderly residents of New York State have employer-sponsored coverage, 23 percent have public coverage, 4 percent have directly purchased coverage, and the remaining 14 percent are uninsured (Figure 1). However, coverage within these categories is not static—people move in and out of different categories as well as lose and gain insurance. Even for individuals and families who have health insurance, coverage is often unstable, uncertain, or increasingly unaffordable. In the employer-sponsored insurance market, premiums have been rising, forcing many employers to require higher premium contributions and cost-sharing from their workers. As coverage becomes less affordable, employer-sponsored coverage has been gradually eroding. Premiums have also been rising dramatically in the direct-pay market and are largely unaffordable for low-to-moderate income New Yorkers. In addition, the problem of churning among public program beneficiaries—or cycling on and off coverage despite continued eligibility—is well documented. Coverage expansion strategies will need to address the issues of the uninsured, underinsured, and unstably insured New Yorkers.
Expansion strategies will also need to consider the unique composition of New York's uninsured. We estimate that 40 percent of the state's 2.2 million uninsured persons are eligible for existing public coverage, another 38 percent have income below 300 percent of the federal poverty level (FPL) but are not eligible for public coverage, and the remaining 22 percent have income above 300 percent FPL (Figure 2). Research evidence suggests that there are a variety of reasons uninsured children, adolescents, and adults do not enroll in public coverage despite being eligible for these programs, including: misperception of eligibility rules, difficulty applying and renewing coverage, immigration-related concerns, and misunderstanding among healthier persons about the "value" of coverage.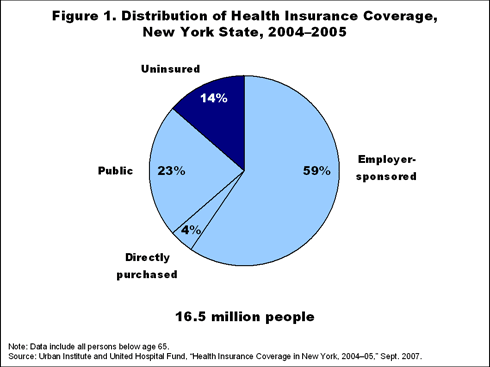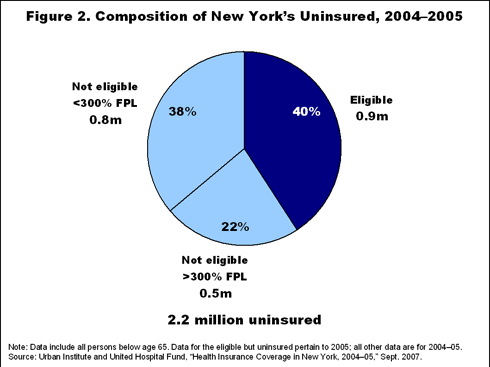 Principles for Reform
We begin by describing a series of principles for reform, outlined by The Commonwealth Fund's Commission on a High Performance Health System, by which universal coverage proposals can be evaluated. These principles pertain to ways of increasing access to coverage for the uninsured, improving quality and efficiency, and gaining control over health care cost growth.
Access to Care
Provides equitable and comprehensive insurance for all.
Insures the population in a way that leads to full and equitable participation.
Provides a minimum, standard benefit floor for essential coverage with financial protection.
Premiums, deductibles, and out-of-pocket costs are affordable relative to family income.
Coverage is automatic and stable with seamless transitions to maintain enrollment.
Provides a choice of health plans or care systems.
Quality, Efficiency, and Cost Control
Health risks are pooled across broad groups and over lifespans; insurance practices designed to avoid poor health are eliminated.
Fosters efficiency by reducing complexity for patients and providers, and reducing transaction and administrative costs as a share of premiums.
Works to improve health care quality and efficiency through administrative reforms, provider profiling and network design, utilization management, pay-for-performance payment models, and structures that encourage adherence to clinical guidelines.
Minimizes dislocation; people can maintain current coverage if desired.
Simple to administer.
Has the potential to lower health care cost growth.
Financing
Financial commitment to achieve these principles.
Financing should be adequate and fair, based on ability to pay, and is a shared responsibility of federal and state governments, employers, individual households, and other stakeholders.
With these overarching goals in mind, we offer a series of design choices and key considerations for approaching universal coverage in New York State.
Publication Details
Publication Date:
December 1, 2007
Citation:
D. Holahan, P. Newell, and C. Schoen, Testimony of the United Hospital Fund and The Commonwealth Fund, The New York State Insurance Department and New York State Department of Health "Partnership for Coverage" Public Hearing, December 5, 2007