In light of the large number of medical home pilots and evaluations, the Commonwealth Fund established the Patient-Centered Medical Home Evaluators' Collaborative in 2009 to align evaluation methods to the greatest extent possible, share best practices, and exchange information to improve evaluation designs. The collaborative is comprised of researchers who are engaged in assessing patient-centered medical home (PCMH) demonstrations and are unaffiliated with groups promoting the PCMH.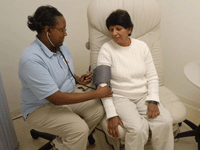 The Evaluators' Collaborative is open to researchers conducting PCMH evaluations and is co-chaired by Meredith Rosenthal, Ph.D. of the Harvard School of Public Health and Melinda Abrams, M.S., of The Commonwealth Fund. If you are interested in joining the collaborative, please e-mail Karen Crow at [email protected].
The Evaluators' Collaborative's objectives are:
reach consensus on a standard core set of outcome measures and instruments;
share the consensus on instruments, metrics, and/or methodological lessons with interested researchers around the country; and
foster an ongoing and supportive exchange where evaluators share ideas that improve their evaluation designs, analytic approach, and interpretation of findings
The Evaluators' Collaborative is composed of four measurement workgroups:
Physician and Staff Experience. Chaired by Mark Friedberg, M.D., M.P.H  and Mark Linzer, M.D.
Clinical Quality. Chaired by Asaf Bitton, M.D., M.P.H
Cost and Efficiency. Chaired by Meredith Rosenthal, Ph.D. , Harvard School of Public Health.  
 Patient Experience. Chaired by Judith Fifield, Ph.D. , and Melanie Martin-Peele , University of Connecticut.

Process and Implementation Metrics. Chaired by Benjamin Crabtree, Ph.D. , Robert Wood Johnson Medical School.
The Commonwealth Fund has published the Evaluators' Collaboratives' recommended core set of standardized measures to evaluate cost and utilization, and clinical quality outcomes, in PCMH evaluation studies. Read the data brief and blog post. Also available are slides and a recording from a May 16 webinar on the process and recommendations.