Data Brief
Despite national attention to increasing preventive health care for women,
The Commonwealth Fund 1998 Survey of Women's Health
finds little change in preventive health screening rates since a similar study commissioned by the Fund in 1993. The 1998 survey also finds that wide disparities in screening rates persist across income and education levels and racial and ethnic groups.
The survey does find some indications that women today are more knowledgable about their own health and are taking steps to stay healthy. For example, awareness of osteoporosis, as well as the need for regular exercise, is up.
Nevertheless, improvements in prevention awareness are unevenly distributed among women. Furthermore, low levels of physician counseling on important health issues suggest that new strategies are needed to improve communication and to focus care and education on underlying health concerns.
PREVENTIVE CARE SERVICES: SCREENING FOR BREAST, CERVICAL, AND COLON CANCER
National guidelines recommend that women age 50 and older receive annual mammography screening to detect early signs of breast cancer, and that all women receive an annual or routine clinical breast exam. The percentage of women who obtained a clinical breast exam in 1998 (66%), however, was unchanged from 1993, and mammography screening rates among women age 50 and older increased only from 55 percent to 61 percent. One positive sign is the apparent improvement in mammography rates among African American and Hispanic women: rates for African American women grew from 37 percent in 1993 to 66 percent in 1998, and rates for Hispanic women grew from 54 to 64 percent. However, mammography rates for low-income women, overall, continue to lag behind: 83 percent of women age 50 and older with incomes above $50,000 received the exam, compared with only 49 percent of women with incomes of $16,000 or less.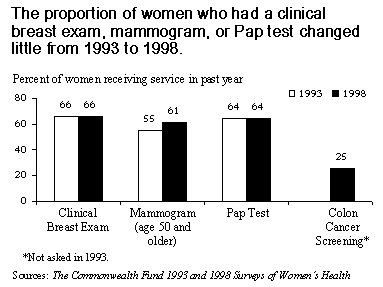 Use of the Pap test, which can detect cervical cancer in a highly treatable stage, showed no improvement from 1993 to 1998 (rates remained at 64 percent). As with mammograms, use of Pap tests varied greatly by income: 57 percent of low-income women received the test in the last year, compared with 77 percent of high-income women.
Although colon cancer accounts for the third-highest number of cancer deaths among women and men, only 25 percent of women age 50 and older reported having been screened for the disease in the past year, compared with 38 percent of men age 50 and older. These rates varied little by income or race/ethnicity. Low rates of colon cancer screening signal a need for more concerted efforts to educate all women and men over age 50—and their medical providers—about the importance of this potentially life-saving test.
OSTEOPOROSIS PREVENTION
The risk of developing osteoporosis, a condition that causes brittle bones in thousands of older women, can be lessened by taking calcium supplements. Possibly in response to public health campaigns to increase women's awareness of osteoporosis, the proportion of women saying they are "very familiar" with the term increased from 30 percent in 1993 to 36 percent in 1998. Women age 65 and older had the highest level of familiarity. Awareness among minorities, however, lagged behind: only 25 percent of African American women, 17 percent of Asian American women, and 19 percent of Hispanic women were "very familiar" with osteoporosis, compared with 41 percent of white women.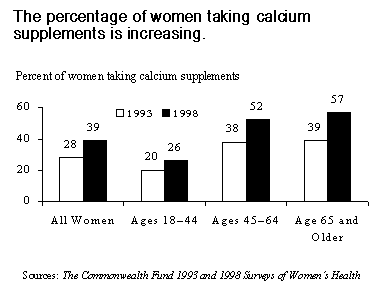 As more women learn about osteoporosis, a growing number are taking calcium supplements to reduce their risk of developing the condition. Nevertheless, of the women surveyed, just half in the 45–64 age group and 57 percent of women age 65 and older took supplements—an indication that more education is needed to expand use of this cost-effective preventive measure.
PHYSICIAN COUNSELING ABOUT HORMONE REPLACEMENT THERAPY
Hormone replacement therapy (HRT) has received significant attention as growing numbers of American women reach menopause and results from clinical trials documenting HRT's benefits and risks are publicized. Many medical practitioners view HRT as a potentially valuable strategy for preventing heart disease and osteoporosis as well as relieving menopausal symptoms.
The survey finds that physician counseling has an important role to play in each woman's decision regarding whether HRT is right for her. Of women age 50 and older who reported taking HRT, 64 percent said they had decided to take it based on their physician's recommendation.
Only about two of five women age 50 and older, however, say they have received counseling on HRT from their doctor in the past year. Rates vary sharply by income level and race/ethnicity. In 1998, 25 percent of low-income women received HRT counseling, compared with 61 percent of high-income women. African American women age 50 and older were the least likely to receive HRT counseling (27%), while white women were the most likely (40%).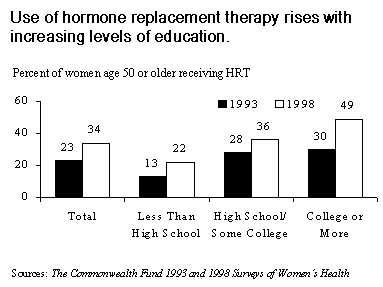 Counseling, together with growing public awareness of HRT's potential benefits, appears to have stimulated increased use of the therapy. The proportion of women age 50 and older taking HRT grew from 23 percent in 1993 to 34 percent in 1998. Increasing HRT use corresponds with higher levels of education: by 1998, 22 percent of women with less than a high school education used HRT, compared with 36 percent of women who had a high school education or some college, and 49 percent of women who had a college degree or more.
HRT use also increases sharply with income. Among women age 50 and older, 57 percent with incomes above $50,000 use HRT, compared with only 21 percent of women with incomes of $16,000 or less and 33 percent of women with incomes from $16,001 to $35,000
PHYSICIAN COUNSELING ON HEALTH CONCERNS AND HEALTHY BEHAVIOR
Physicians can potentially influence their patients' behavior through counseling. Yet, relatively small percentages of women reported having been counseled on a variety of health issues during the past year. Physicians were most likely to discuss exercise and diet or weight issues with their female patients, and African American women were more likely to receive counseling on diet and exercise (65%) than white (44%), Hispanic (42%), or Asian American women (27%).
Although the risk of contracting a sexually transmitted disease (STD) or becoming a victim of domestic violence is common to all racial and ethnic groups and all levels of socioeconomic status, based on women's reports, physicians infrequently discuss these issues with them. While counseling rates are highest among women with lower incomes and less than a high school education, counseling rates on socially sensitive concerns remain low across income groups.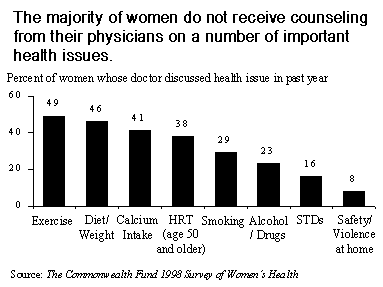 Publication Details
Publication Date:
May 1, 1999
Citation:
Preventive Care and Physician Counseling, Karen Scott Collins, Cathy Schoen, Susan Joseph et al., The Commonwealth Fund, May 1999