The failure of the health insurance CO-OP operating in Iowa and Nebraska and recent analysis documenting significant losses among all but one CO-OP have caught the attention of policymakers and raised questions about the long-term viability of the Affordable Care Act's Consumer Operated and Oriented Plan (CO-OP) program. The nonprofit, consumer-governed health plans were included in the law as an alternative to the so-called public plan option. Modeled on successful health insurance cooperatives such as Group Health Cooperative in Washington, the CO-OPs were designed to broaden the coverage options available to consumers, inject competition into highly concentrated health insurance markets and provide more affordable, consumer-focused alternatives to traditional insurance companies.
To help these new plans find footing, the health law offered low-interest loans that were tied to a number of requirements designed to differentiate CO-OPs from traditional insurers (which were barred from the program). Recipients were required to:
Reinvest all profits to improve pricing and/or benefits for members;
Establish governance by a majority vote of members, with ethics and conflict-of-interest standards that guard against insurance industry involvement; and
Operate with a "strong consumer focus."
CO-OPs: Where They Are Today
Today, there are 23 CO-OPs in 25 states (see map). Combined, they've received $2.44 billion in low-interest federal loans. In the first year of marketplace enrollment, these plans collectively garnered over 500,000 total enrollees. But the performance of individual CO-OPs was decidedly mixed, and their experiences have been dependent on factors unique to their states and markets.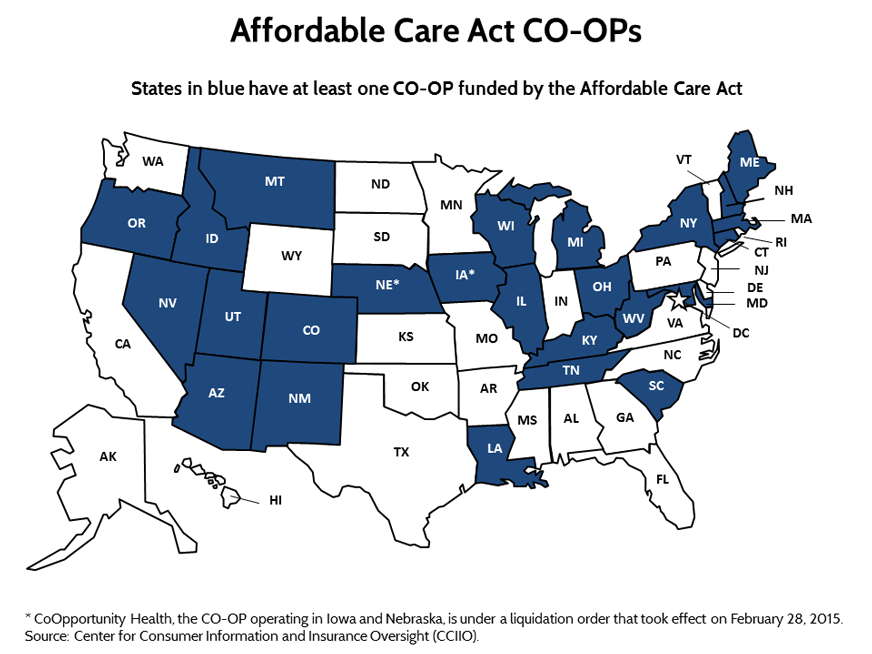 Some CO-OPs attracted few enrollees in 2014, often because their plans were more expensive than competitors' and they lacked the brand recognition necessary to offset higher prices. Meanwhile, the operational problems that kept enrollment low in some state-based marketplaces had a disproportionate impact on new entrants , including CO-OPs in Maryland, Oregon, Nevada, and Massachusetts.
At the other end of the spectrum, some CO-OPs may have been too successful for their own good. By pricing aggressively in their first year, these CO-OPs gained a larger-than-expected share of enrollees, in some cases coming out ahead of their more well-known competitors. To be sure, this competition likely helped keep premiums lower in many markets. But high CO-OP enrollment brought with it exposure to greater financial risk if they did not set their premiums appropriately. Competitors' complaints that some CO-OP prices were unsustainable may have been proven correct, as many of these same plans reported large underwriting losses and needed significant premium increases for 2015 to stay ahead of claims costs. Furthermore, payments from the Affordable Care Act's risk mitigation programs, primarily the reinsurance and risk corridor programs, may not kick in in time or be sufficient to rescue some CO-OPs from their current cash flow problems. These difficulties have led industry rating agency A.M. Best to report concern "about the financial viability of several of these plans."
Challenges to Success
These early difficulties should not be too surprising. Thanks in part to lobbying by traditional insurers, the Affordable Care Act's CO-OP provisions included restrictions that made it challenging for CO-OPs to compete. The law prohibits CO-OPs from using any federal loan funds for marketing expenses. It mandates that a majority of CO-OP enrollment come from individuals and small businesses, limiting plans' ability to penetrate the more profitable large-employer market. And it also requires the first loans to be paid back within five years, a time frame that may be insufficient for many CO-OPs to build a sustainable market presence.
Other obstacles emerged during implementation. First, federal policymakers cut the CO-OP loan budget by two-thirds, leaving funding at levels far below what experts told officials would be needed to ensure that the plans were adequately capitalized. Second, the Administration's decision to allow insurers to maintain plans that were not compliant with the Affordable Care Act during an unanticipated transitional period bestowed further advantage on traditional market players, who were allowed to retain healthier enrollees that had cleared health status underwriting pre-reform. CO-OPs and other new insurers, on the other hand, were likely to have been left with a risk pool that was sicker than had been expected when they filed their rates for 2014.
Apart from unique legal and policy hurdles, CO-OPs also face the barriers to entry that all newcomers confront in highly concentrated health insurance markets. Among other challenges, they must demonstrate adequate capitalization and effective governance to gain a state license, build or acquire a network of providers at a reasonable cost, price plans competitively without any historical claims data, and build brand recognition and trust. In addition, many new market entrants must, at least initially, outsource critical functions such as customer support and claims processing, which adds to overhead costs and reduces their ability to manage quality.
Don't Write Off CO-OPs Just Yet
Despite early losses and gloomy forecasts, there are reasons to believe that some CO-OPs will not just survive, but thrive.
First, several plans are already heading in the right direction. For example, Maine's CO-OP has both high enrollment—it enrolled over 80 percent of marketplace enrollees in 2014—and favorable net income. These initial successes allowed the company to expand into New Hampshire and drop its rates slightly for 2015. Others, in spite of initial setbacks, are proving nimble in response to market pressures by cutting premiums, signing small-business customers outside of the marketplaces, and emphasizing new care delivery models such as patient-centered medical homes.
Second, as start-ups, it shouldn't be surprising that many will run at a loss initially. Some may only need bridge loans to overcome temporary cash flow problems.
And yes, it's true, too, that more of these new ventures might fail. (The federal loan program was supposed to help with early rough patches; in the absence of full funding, additional failures should not be surprising.) For policymakers interested in maintaining a competitive marketplace and consumer choices, it will be critical to identify and better understand the barriers these plans have faced, as well as how to leverage opportunities to ensure their long-term sustainability.