The number of uninsured Americans declined by an additional 4 million in 2015, two years after the major insurance reforms of the Affordable Care Act (ACA) took effect, according to a new federal survey of 94,000 adults released by the U.S. Census Bureau today. Using data from the Current Population Survey (CPS), Census reported that 9.1 percent of the U.S. population, or 29 million people, were uninsured in 2015, down from 13.3 percent in 2013. Uninsured rates declined across all age groups, with adults ages 19–25 experiencing the biggest one-year drop.
Marketplace and Individual Market Coverage Is Major Driver of Growth in Private Coverage
Because of the ACA's subsidies and consumer protections, substantially more Americans have health insurance that they buy on their own in the individual market, either through the ACA marketplaces or directly from insurance companies. The new Census data show that individual market coverage has been the main driver of private coverage growth since 2013. Between 2013 and 2015, the number of people under age 65 with coverage that they purchased on their own rose from 22.5 million to 39 million (Exhibit 1).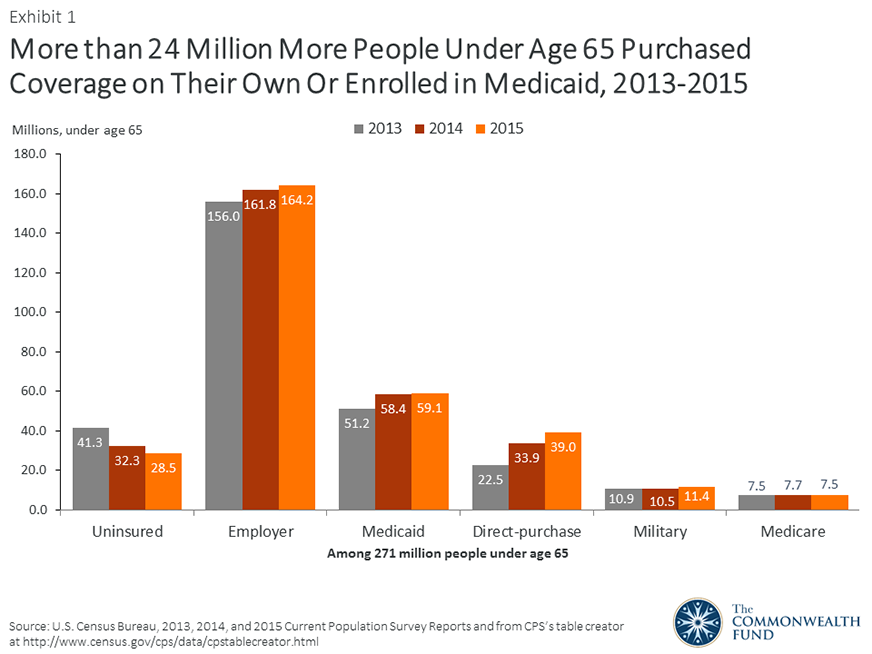 There also has been coverage growth outside the individual market. More than 59 million people under age 65 now have coverage through Medicaid. And the number of people under age 65 who have health insurance through an employer, which remains the major source of coverage in the United States, also climbed in 2015. This provides the latest evidence that the ACA coverage expansions have not led American businesses to stop offering coverage to their employees.
Young Adults Are Making Strong Gains in Coverage
Uninsured rates declined across all age groups in 2015, with the greatest gains among young adults. The uninsured rate among adults ages 19–25 dropped by 2.6 percentage points in 2015 to 14.5 percent, the largest one-year drop of any age group (Exhibit 2). But Census notes that the uninsured rate among 26-year-olds is the highest of all ages at 19.5 percent, and one-and-a-quarter times greater than that of 25-year-olds. This drop-off in coverage likely reflects children aging off their parents' insurance policies at 26, and experiencing some time without insurance. Similarly, the uninsured rate jumps up at age 19, a long-term problem that may continue to stem from children aging off traditional Medicaid or the Children's Health Insurance Program (CHIP), particularly in those states that have not expanded their Medicaid programs.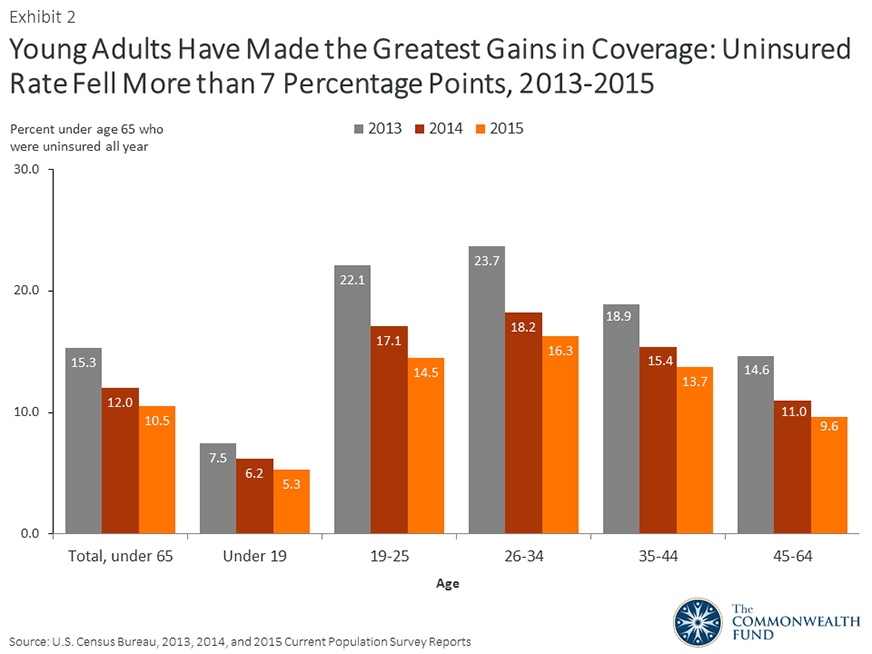 Latinos Made the Greatest Gains in Coverage Across Racial and Ethnic Groups
While Latinos continue to be the most likely of racial and ethnic groups to lack insurance, they experienced the largest coverage gain of any group in 2015. The uninsured rate among Latinos under age 65 dropped by nearly 4 percentage points since 2014 (Exhibit 3).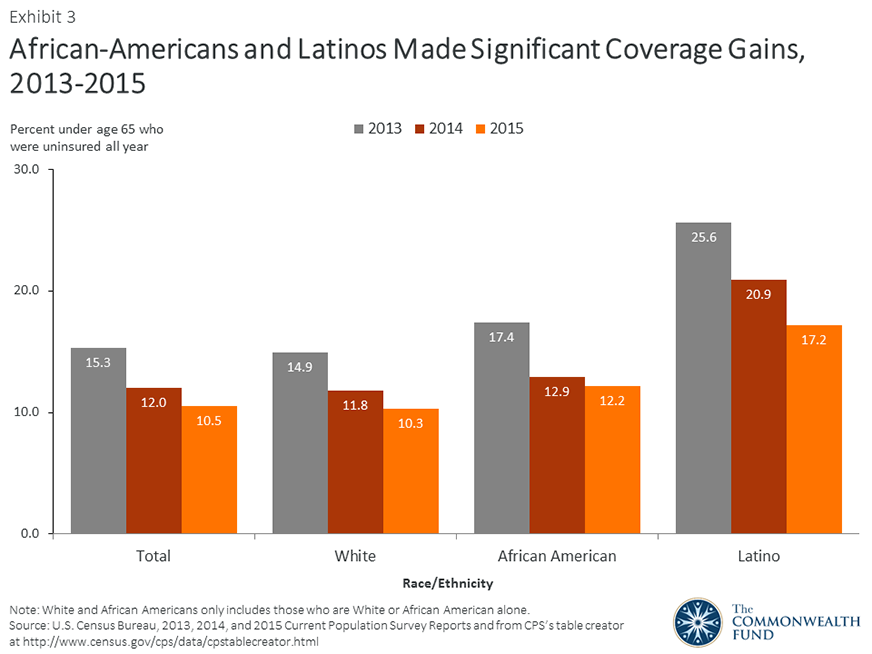 The Uninsured Rate Among People with Low and Moderate Incomes Continues to Drop
People with low and moderate incomes have historically had the highest rates of uninsurance, largely because they are the least likely to have insurance through a job and could not afford to buy coverage on their own. Because of the ACA's marketplace subsidies and Medicaid expansion, people in this income range made strong gains in 2015, though they continue to have higher uninsured rates than people with higher incomes. (Exhibit 4).
States with Above-Average Uninsured Rates Have Not Expanded Medicaid
The Census also released new data from the massive American Community Survey of 3.5 million people, which provides estimates of health insurance coverage at the national, state, metropolitan, and county levels, and by congressional district. The data show significant declines in uninsured rates in 2015 in all but three states. The change since 2013 is dramatic. In 2013, 19 states had uninsured rates of more than 14 percent; in 2015 only two states, Alaska and Texas, had an uninsured rate that high. Neither state had yet expanded eligibility for Medicaid (Alaska's expansion went into effect in September 2015), which drives higher uninsured rates in states across the country. Of the 23 states that had not expanded eligibility for Medicaid under the ACA as of January 2015, uninsured rates exceeded the national average in 18 of them. Since that time, Indiana, Montana, and Louisiana, along with Alaska, have expanded their programs.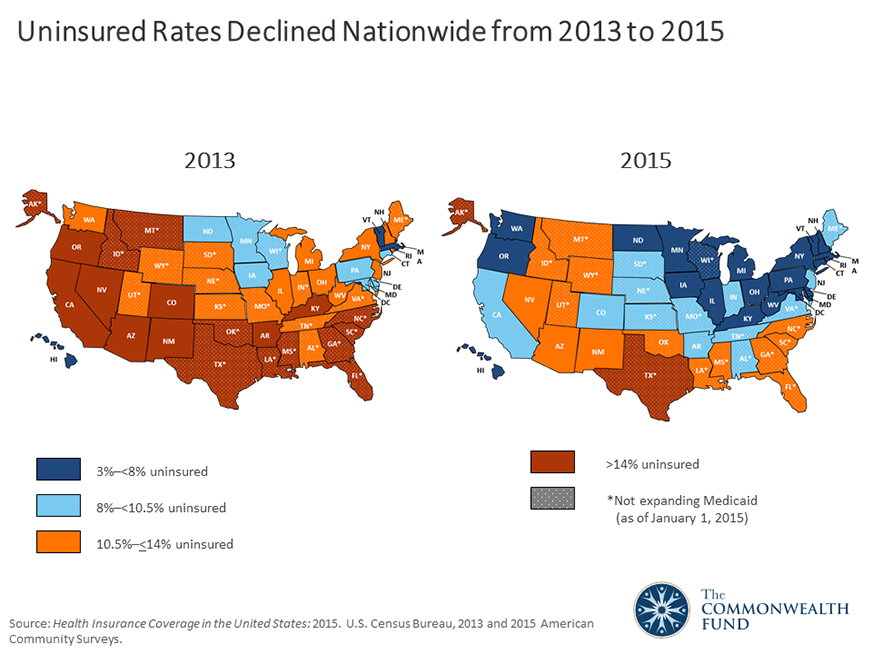 Looking Forward
Recent research shows that these continued strong gains in Americans' health insurance coverage are reducing people's out-of-pocket costs, improving access to health care, and leading to better health. But 29 million people who could benefit from these reforms remain uninsured. There are several ways to achieve more universal coverage. Most importantly, all states can accept the federal dollars available to them and expand their Medicaid programs. In addition, many of those most at risk of lacking insurance are not aware of the options available to them. To help, the U.S. Department of Health and Human Services has launched new efforts to reach those who are eligible and help them enroll in this fall's open enrollment period beginning on November 1.
Since research shows that many eligible adults who haven't enrolled cite affordability concerns, enhanced subsidies and lower cost-sharing may be needed to facilitate enrollment. Extending the law's temporary premium stabilization programs for insurers also would encourage them to continue to participate in the marketplaces and help keep premiums affordable over time. Finally, immigration reform also would help increase the number of people eligible for coverage, as would easing the law's restrictions on coverage of undocumented immigrants.