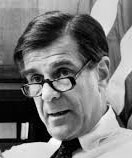 On Friday, January 24, the United States lost a champion for health care access for all. Rep. Pete Stark (D–Calif.) spent his 40-year career in Congress fighting for health care reform and policies to support the most vulnerable in our society. He was a lifelong advocate for universal health care — his AmeriCare legislation, first introduced in 2006, would have provided every American with a basic level of health coverage, and is the framework for Medicare for All and other comprehensive health reform proposals being discussed today.
From 1985 through 2012, Pete served as the chair or ranking member of the House Ways and Means Health Subcommittee. It's hard to think of any consequential health legislation that passed in that time — many amid controversy — that did not bear his mark or influence, culminating in 2010's Affordable Care Act. For decades, Pete was a driving force in Medicare payment reforms that still stand today, including the physician anti-self-referral laws named after him and an end to the expansion of physician-owned hospitals. He also authored the COBRA laws that allow employees to extend their employer health coverage after they leave a job, and the Emergency Medical Treatment and Labor Act (EMTALA), which prohibits hospitals from turning away patients when they present at emergency rooms with a critical condition or in labor. Despite political wrangling, many passed in a bipartisan manner, often hand-in-hand with his longtime ranking member on the Health subcommittee, former Rep. Bill Gradison (R–Ohio), and with Republican administrations.
The media stories on his passing describe Pete as "fiery" and "caustic." He could be those things. But he was also funny. He once introduced a bill he named the "Buck Naked Act," which prohibited doctors and hospitals from asking about insurance status while a patient was unclothed. But the humor had a point: patients are not in any position to negotiate with their physicians in the exam room. He was also fiercely loyal to his staff — a true supporter of family and medical leave and work–life balance. His staff, in turn, were fiercely loyal to him. We should know. We worked for him in the House of Representatives. He was a family man in the true sense of the word, and he fostered a sense of purpose among his staff. Everyone shared the goal of making health care more affordable and accessible to all. The health policy community lost a champion, but his work and his mission live on in all of us and in the important laws he enacted that protect people's health.