Years ago, the Commonwealth Fund's Harkness Fellowships program sparked a partnership between American physician Gregg Meyer and British physician James Mountford centered on improving health care quality and caregivers' experiences. COVID-19 reignited their collaboration when both doctors helped launch field hospitals in their respective countries.
The Commonwealth Fund's Harkness Fellowships in Health Care Policy and Practice bring midcareer health services researchers and practitioners from other countries to the United States for mentorship and research with the aim of improving care in the U.S. and abroad. Over its nearly 100 years, the program has promoted partnerships among fellows and their mentors that extend well beyond the yearlong fellowship.
Such is the case for James Mountford, M.D., director of quality at the Royal Free Hospital of London. As a Harkness Fellow from 2005 to 2006, Mountford spent time in Boston studying how financial incentives and other interventions affect physician behavior. That work introduced him to Gregg Meyer, M.D., senior vice president for quality and safety at Massachusetts General Hospital and Massachusetts General Physicians Organization; the latter was developing a novel pay-for-performance program for physicians at that time.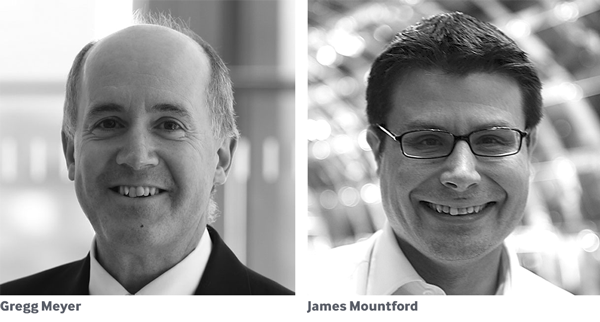 Despite our very different health systems in London and Boston, and the different clinical models of our temporary hospitals, we had a great deal to learn from each other.
The two quickly became friends, bonding over time spent at Oxford University, where Meyer was a Rhodes Scholar in the 1980s and Mountford was a medical student in the 1990s, as well as their shared interest in quality improvement — and lobster rolls. And then in March, as the pandemic was taking hold in England and the U.S., the two found themselves on parallel tracks. Both were tasked with helping run field hospitals, built at breakneck speed in London and Boston as the cities anticipated a surge of COVID-19 patients.
After exchanging a few text messages, Mountford and Meyer began holding videoconferences on Saturdays. Meyer's wife Bonnie Blanchfield and three other colleagues also attended. The group brainstormed strategies for staffing and running the new facilities and resolving key issues. On yet another videoconference, we asked Mountford and Meyer to reflect on what they learned from one another.
Commonwealth Fund: When did you realize you were both involved in operating a field hospital?
James Mountford: I didn't realize it at first. I got a call in late March to lead the quality and learning element of the NHS Nightingale London field hospital. From that moment on, almost everything is a blur. But one thing I distinctly remember was taking a piece of paper and writing on the left-hand side a list of the people who I thought could credibly be part of the team on the ground and on the right side people at a distance who I would want to be a sounding board. One of them was Gregg. At that point, I had no idea that he was going to be running Boston Hope. I think I sent you a text, Gregg. And you replied, "Goodness. We've just taken over a convention center as well. Let's talk."
Gregg Meyer: At that point, everyone was looking on at Bergamo, Italy, with horror and wondering if we were going to have sufficient capacity to deal with COVID-19. Just when it became clear we might need a field hospital, James sent me that text. It was so interesting that we were both working to set up sites and doing similar work.
Commonwealth Fund: What were you most concerned about at the outset?
Meyer: A lot of the early calls were around the types of patients we were going to care for. Nightingale's approach was to offload the ICUs and replicate the most complex care for COVID-19 patients in their facility. The thinking was to concentrate expertise in respiratory care for the sickest COVID-19 patients. This is something we explicitly considered, but in the end, we went a different way. We managed lower-acuity COVID-19 cases and also provided respite care for homeless patients, some of whom were asymptomatic but had no place to shelter.
On our calls, we spent a lot of time talking through the different approaches, as we came to appreciate that COVID-19 is a multiorgan disease. Replicating an acute care hospital for those patients would require not just respiratory specialists, intensivists, and infectious disease doctors. You also need nephrologists and cardiologists and gastroenterologists.
Mountford: For our ICU, staffing was an immense challenge. We were employing hundreds of staff drawn from dozens of hospitals in the wards — located in the ExCel conference center's main exhibition hall. Even experienced intensivists were describing a disorientation in situational awareness as they tried to adjust to a new setting. We were also working with staff who had never worked in health care before or with each other. At our first patient check-in, we had six staff: three emergency department nurses, a dental hygienist, a shop worker, and a contractor to a railway engineering firm.
It would have been hard enough to do this for a disease we know how to treat. With COVID-19, we were learning new information every day about its natural history, who it affects most severely, and the best treatment regimens. We were seeing physiological mechanisms we [were previously] accustomed to moving together [now moving] in opposite directions.
Given the uncertainty, we knew we needed to build a learning system to harvest information about how the disease progressed, what was working and what was not operationally, and how best to keep staff physically and psychologically safe. We created a novel role of the "Bedside Learning Coordinator" who would capture insights from staff at the bedside, register safety events, and share the learnings and changes to our ways of working back with staff on a daily basis.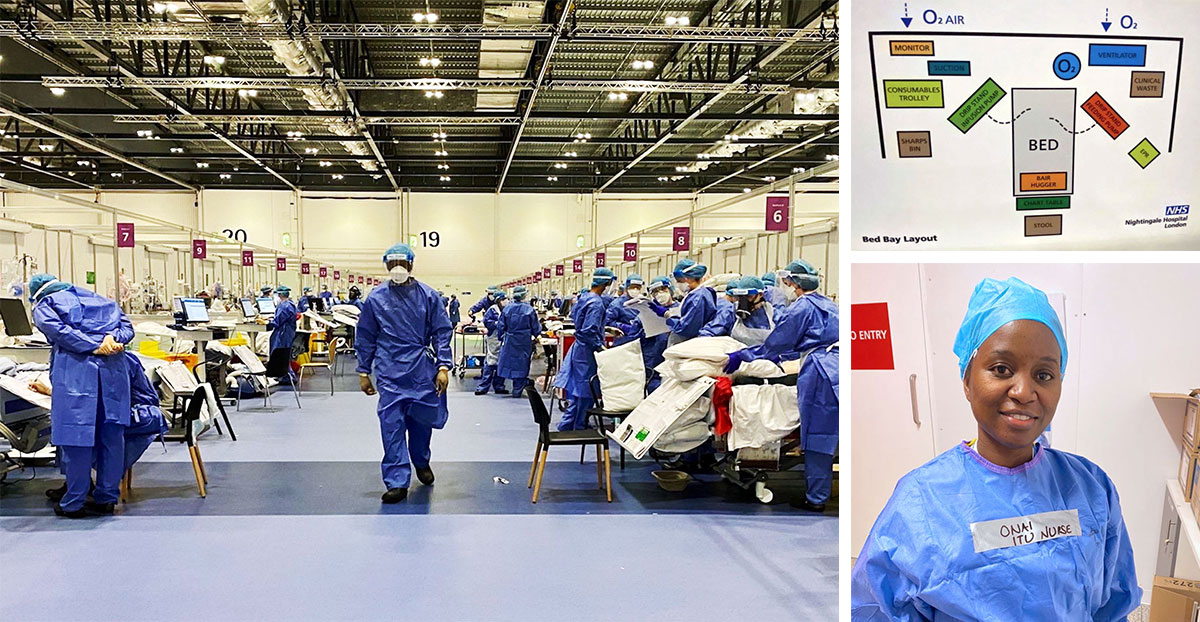 Meyer: We stole that approach shamelessly, collecting data from the floor and providing feedback to staff through daily briefings. We also had similar challenges drawing staff from different systems: we had Army reservists including physicians, nurses, and respiratory therapists. We also had volunteers. One of the things we did to create cohesion was to adopt all the policies of Massachusetts General Brigham and Women's Hospital — from how to use personal protective equipment and test employees to how to set up a supply chain, so the standard of care would be no different across the system.
Another thing we learned from the Nightingale's approach is you can't commit to getting things right. You can only commit to making them better, and that means a certain amount of flexibility. It's also important to constantly evaluate whether you are meeting your mission and not allowing that mission to creep.
Commonwealth Fund: James, what did you gain from observing Boston Hope's approach?
Mountford: First, that despite our very different health systems in London and Boston, and the different clinical models of our temporary hospitals, we had a great deal to learn from each other. For example, how Boston Hope conducted briefing sessions with staff and gathered feedback from them after each shift. We also drew on Gregg's military experience. Gregg was a colonel in the U.S. Air Force, and it was helpful to be able to explore his take on command leadership — after all, the U.S. military was the originator of the concept.
Sometimes in the NHS, command leadership is taken as the most senior person telling people what to do. Gregg helped me understand that when done well, it's about the senior leader clearly communicating context and priorities so that distributed decision-making works toward the overall goals and priorities. In several ways, it's the very opposite of telling people what to do. It's about empowering and trusting people to make the right decisions in the moment.
This insight was extremely helpful as we tried hard to replicate it at Nightingale. The pace was such that we had no other option. I am sure this helped keep our patients safe.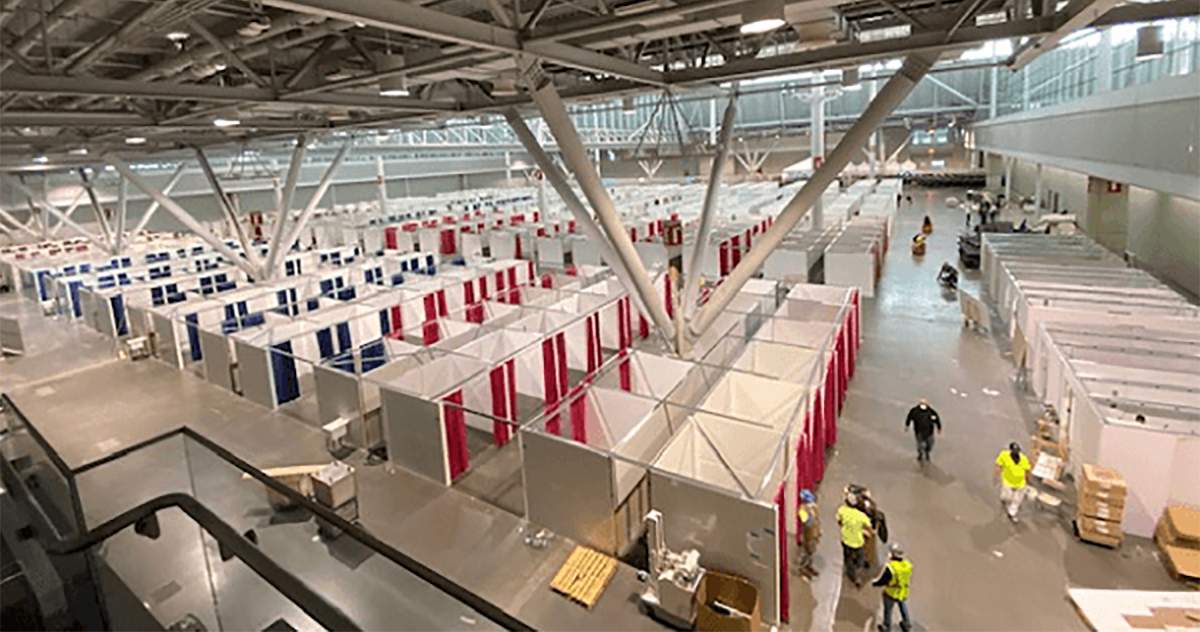 Commonwealth Fund: Do you think it helped that you had a long-standing and trusting relationship to begin with?
Mountford: For sure. Those first few weeks were like nothing I've previously known, in terms of the intensity and speed. It was really good to have the opportunity to link into the team in Boston. Because Gregg and I knew each other well, I think that allowed everyone involved in our calls from both the Nightingale and Boston Hope to rapidly establish a spirit of openness, trust, and collaboration. It was also helpful that our conversations were completely removed from the local politics and dynamics that all other conversations were wrapped in.
It was really, really helpful to be able to decompress and sense-check stuff. That adage that "a problem shared is a problem halved" — that's how it felt to me.
Meyer: I agree. The level of collaboration and creativity reminded me of our earlier effort building a pay-for-performance system for physician groups. That, too, was like building a Wright Brothers airplane. It was primitive, but you know something? It flew. And the reality is it really did change the perception of the physician organization, and today it's a really important part of its fabric. I'm grateful for partnerships among countries and colleagues.