When people shop for health insurance online, internet searches often direct them to websites using misleading or deceptive practices to steer consumers away from the marketplaces to plans that are not compliant with the Affordable Care Act (ACA). These include plans that don't have key ACA protections, like preexisting-condition coverage. While research has called attention to the risks of certain non-ACA-compliant products — such as short-term plans, health care sharing ministries, and farm bureau plans — limited plans have flown under the radar, leaving consumers virtually uninsured.
Limited Plans Are Not Primary Health Insurance Coverage
By limited plans, we refer to a segment of insurance products referred to as "excepted benefits" that are not regulated as individual market health insurance under federal law. There are several types of limited plans, including fixed indemnity, disease-only, critical illness, accident-only, and accidental death and dismemberment. None are designed to be a primary form of insurance, but rather to supplement other coverage, such as employer health plans. Limited plans generally reimburse a low set-dollar amount directly to the enrollee for each covered service or a lump sum for a set of covered illnesses and accidents.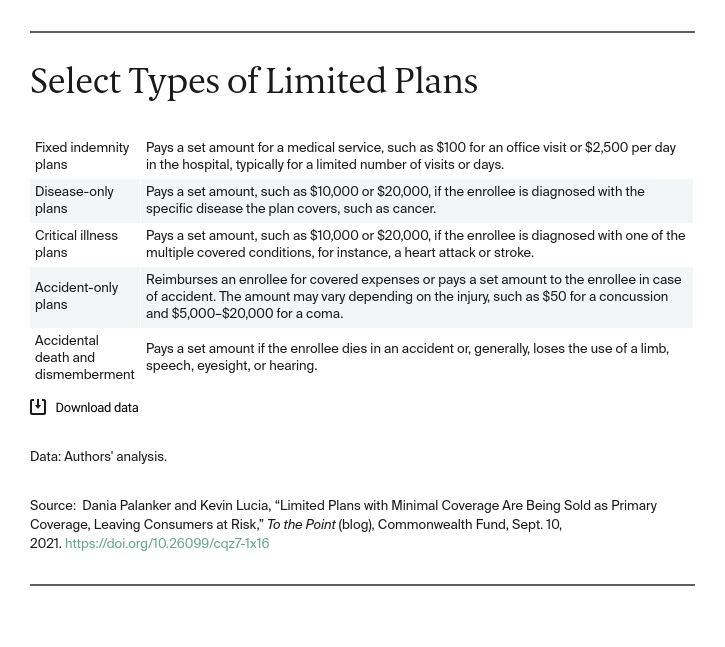 Some brokers and associations bundle products together to appear as one comprehensive plan. However, limited plans provide neither catastrophic coverage nor real first-dollar coverage for benefits. While some fixed-indemnity plans do reimburse for office visits, these are often limited to one or two visits per year. For other coverage, such as care for a critical illness, the plan provides a specified lump-sum amount.
To better understand how limited benefit plans are sold to individuals, we interviewed insurance regulators in four states (New Mexico, Rhode Island, Vermont, and Washington) and the District of Columbia that limit other non-ACA-compliant coverage.
States Don't Know Much About the Wild West of the Limited Plans Market
Regulators reported they are concerned about limited plans being sold directly to consumers. One regulator said: "It's the Wild West of the market. I don't think anyone has a handle on it." Regulators did not seem to have a good grasp of the market, but they do know that limited plans are being sold directly to individuals. Three regulators said they see signs that enrollment is growing. But complete enrollment data do not exist.
Sales are hard to track, in part because limited plans are often sold through multistate associations. These are membership-based organizations that almost anyone can join that sell the same policies in multiple states. While some are legitimate, two regulators said that when they send a cease-and-desist notice to others, the entities close shop and pop up under a new name. One regulator reported that his agency couldn't keep up with constantly changing associations based in his state. This game of Whac-A-Mole isn't new: entities illegally selling insurance have a history of escaping enforcement action by closing down and changing their names.
States Know Limited Plans Are Being Sold as Comprehensive Coverage
Fixed-indemnity plans have evolved to mimic comprehensive insurance. As the Brookings Institution reported, benefit summaries look like health insurance benefit schedules. The key difference is that the amounts shown are not cost sharing, they are the amounts the plan pays.
Regulators said limited plans are being sold to consumers primarily through the internet and telemarketing — often to people searching for ACA coverage. Some fixed-indemnity products are sold directly online. Other times, visits to lead-generating websites (websites that collect personal data to pass on to third parties to sell insurance) result in a deluge of phone calls to a consumer by brokers trying to make a quick hard sell using well-crafted scripts. One regulator noted that the plans look like comprehensive coverage when they are bundled together. But the bundles often provide very restricted benefits.
Looking Forward
The American Rescue Plan has made coverage through the insurance marketplaces more affordable. Yet, consumers are still being sold limited plans that leave them vulnerable while thinking they have purchased comprehensive coverage. States need to learn more about this market, but they cannot act alone as these plans are sold via intricate multistate schemes. The Federal Trade Commission (FTC) has taken action to stop deceptive practices used to sell limited plans, but the FTC's Bureau of Consumer Protection could help identify and penalize more of the worst actors if the Bureau had more funding and a stronger directive to investigate this market.
The biggest change should come from changing how limited plans are treated under federal law. Limited plans have been excepted from federal law for decades. It may be time to reassess outdated state and federal regulatory schemes and redefine excepted benefits so plans — or bundles of plans — that mimic comprehensive coverage are not exempted from federal regulation and are held compliant with ACA coverage.