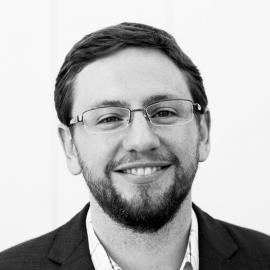 With support from the Commonwealth Fund, a team of journalists from Vox spent nine months reporting on the successes — and setbacks — of pandemic-response strategies in six nations: Germany, Senegal, South Korea, the United Kingdom, the United States, and Vietnam. The Pandemic Playbook they produced contains some surprising findings. Among them: the U.S. was more generous in financially supporting its citizens during the pandemic than European countries with stronger social safety nets. And while the U.S. is known for medical innovation, it was the U.K. that created the most robust clinical trials, leveraging its national health system to identify two COVID-19 drugs that saved an estimated 1 million lives worldwide.
Reginald D. Williams II, vice president of the Fund's International Health Policy and Practice Innovations program, spoke to Dylan Scott, a senior correspondent at Vox who led the reporting effort.
Reginald D. Williams II: Your team was able to bring a fresh perspective to countries we've heard a lot about, like Germany and the U.K., and those we've heard less about — Senegal, South Korea, and Vietnam. It seems many nations that mounted strong COVID-19 responses had poor prior experiences with infectious disease outbreaks and learned from their mistakes.
Dylan Scott: That came through most clearly with the South Korea story. Their response to MERS [Middle East Respiratory Syndrome, a viral respiratory illness] had been a national embarrassment and prompted them to totally reimagine their public health system. As the country was planning for the possibility of a new coronavirus reaching its borders, the top epidemiologists and health officials recommended that South Korea develop testing material that could be quickly adapted to any new coronavirus. They suggested using GPS and credit card data to track contacts with infected patients. Both strategies worked to stave off disaster. Senegal had had to deal with the threat of Ebola within the last few years, and Vietnam is a country that has had experience with infectious disease outbreaks — and also has a contentious relationship with China. In contrast, our public health systems had never been tested like this before. Our hope is that this is America's chance to learn from its mistakes.
Williams: To manage the pandemic, both South Korea and Vietnam used digital surveillance for contact tracing and monitoring people's movements. Given many Americans' concerns over privacy and safeguarding individual freedoms, do you still think there are lessons for the U.S.?
Scott: Some of the measures those countries took were extreme by U.S. standards. In South Korea, it was literally the law to cooperate with contact tracers. The government had the authority to access personal financial records, CCTV footage, and phone tracking data to conduct contact tracing — whether or not you were willing to cooperate. I don't know that that kind of scheme would ever be politically feasible in the U.S. But one lesson that was clear from South Korea and some of the other countries we covered was the importance of acting early and acting decisively. It was clear that if you communicate your strategy clearly to the public, and that strategy finds some success early on, you build a lot of trust. A big part of the public support for contact tracing in South Korea came from the fact they had seen those interventions work.
Williams: Vietnam also achieved widespread compliance with public health measures, which your article attributes to the Communist government's surveillance apparatus and to public support as the economy thrived. What was unique about Vietnam's communication approach? And what can we learn from Vietnam about how to communicate effectively during a public health emergency?
Scott: The government in Vietnam was creative, texting information to people's phones and commissioning a pop song about handwashing. But in the U.S., as Dr. Leanna Wen, the former Baltimore health commissioner has pointed out, the U.S. never really told the public, "This is what we are doing and why." Australia communicated that very clearly to the public. I think if we had a little more intentionality and clarity in messaging early on, it's easier to imagine that more Americans might have been willing to go along with things we know are effective in containing the virus. Without a plan being communicated, a mentality of defeat sets in, and it's really hard to put that back in the bottle.
Williams: The Pandemic Playbook describes how Senegal has been using community health workers — who are revered figures in their communities and typically work on maternal health and other issues — to communicate the rationale for masking and testing. How could the U.S. make better use of community health workers during COVID-19 and beyond?
Scott: Community health workers seem like the most obvious investment in the world after seeing Senegal's experience. Having people you know and trust help you navigate the health care system and new information makes so much sense. At the same time, I hope we can realize that those kinds of investments are not just about the next outbreak, but they are about managing chronic health problems many of us are dealing with all of the time. Focusing on those problems when we're not in the middle of a pandemic is also a part of pandemic preparedness.
Williams: On a positive note, what do you see as the strengths of the U.S. response?
Scott: The vaccine rollout so far has undoubtedly been a success, though we need to work harder to get the next third of the country vaccinated. I also worry our vaccine success will breed a kind of complacency — that everybody will just be so relieved that the pandemic is over that the last thing they want to talk about is preparing for the next pandemic. And I worry people will think the only thing we need to do to is figure out how to get vaccines produced in mass quantities and as widely distributed as quickly as possible.
Whenever the next outbreak comes along, we have no guarantee that we can quickly produce a vaccine. Other mitigation measures — whether it's testing, contact tracing and isolating, border controls, or the public health communications campaign — will still be critical. I'd like to see us take American ingenuity and hard work and apply them to problems like testing and contact tracing or figuring out better ways to communicate with the public.