Primary care in the United States is struggling. We have a shortage of primary care physicians (PCPs), and those currently practicing are experiencing high levels of stress and burnout. From patients' perspectives, the U.S. is falling behind on measures of access, quality, and continuity of primary care compared with other countries.
How we pay for care is contributing to these issues. Traditionally, primary care services are paid on a fee-for-service (FFS) basis — that is, practices are paid for each service they deliver. Evidence suggests that the FFS model incentivizes PCPs to deliver a higher volume of clinical services while discouraging them from assessing and addressing patients comprehensively.
One way to ease the burdens of primary care is through value-based payment (VBP). Instead of paying for each service provided, payment is based on performance on outcomes, including cost, quality, and equity of care. Outcomes may include specific rates of chronic condition screening or management, the total cost of care, or reductions in disparities for specific types of care. Providers are often given payment up front to manage patients' care, which gives them greater flexibility to provide the right care, at the right time, and in the right way.
In recent years, VBP models have become more common across the health system, increasing from 30 percent to 40 percent of payments between 2016 and 2021. However, little is known about the share of primary care providers, specifically, receiving these payments. Understanding which providers currently receive these payments is important as policymakers aim to increase both the share of payments for care tied to value and the diversity of providers receiving VBP.
In this blog post we present new findings about how PCPs are paid and what characteristics are associated with VBP participation, using responses from more than 1,000 U.S. physicians who participated in the 2022 Commonwealth Fund International Health Policy Survey of Primary Care Physicians.
Fee-For-Service Payments Dominate Primary Care
While our survey doesn't reveal what share of a physician's total payments are value-based, it does reveal that more PCPs are receiving FFS payment than VBP. Seventy-one percent of respondents reported that their practice was receiving any FFS payments, while fewer than half (46%) reported receiving any VBP. Similar rates of primary care practices report receiving two common types of VBP, shared savings or capitation (30% and 32%, respectively). Practices are likely receiving a combination of payments because they are paid differently by different payers.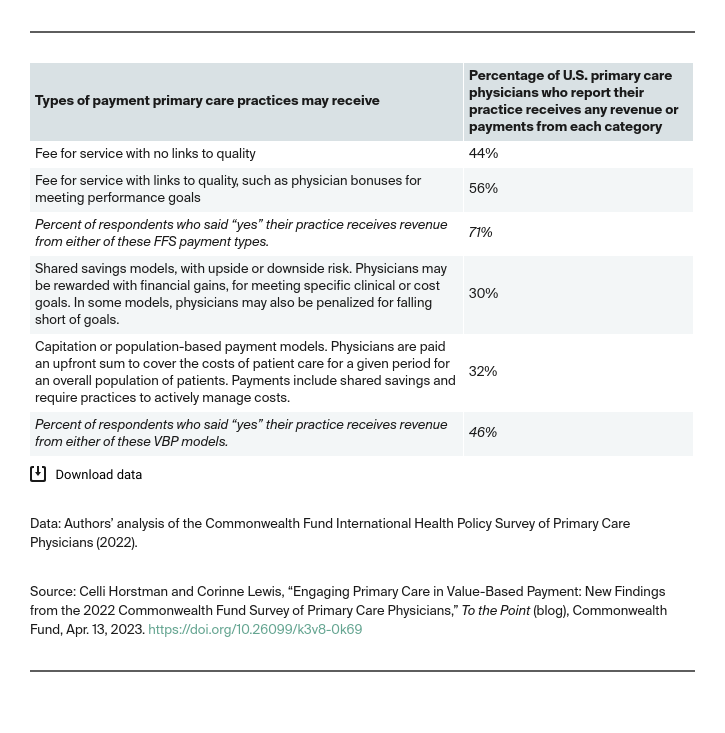 There are several reasons why FFS is dominating primary care. First, changing how care is paid for can require significant upfront investments that not all practices, especially underfunded primary care practices, can manage. For example, payments are often tied to specific outcomes, like blood pressure control or readmission rates, which means practices must dedicate staff time to improving these outcomes and to updating data systems to measure them. Second, for practices to participate in VBP, they must be well-prepared to take on financial risk and potential losses, which is a daunting prospect for small or independent primary care practices.
VBP Participation Is More Likely Among Larger and Urban or Suburban Practices
Practices with five or more physicians, those part of large integrated health systems, or those in suburban or urban areas were more likely than not to report they received VBP. These findings are consistent with other research, which has found that practices with greater capital and resources may be more prepared to engage in VBP because they can better manage financial risk and invest in necessary staff and technology.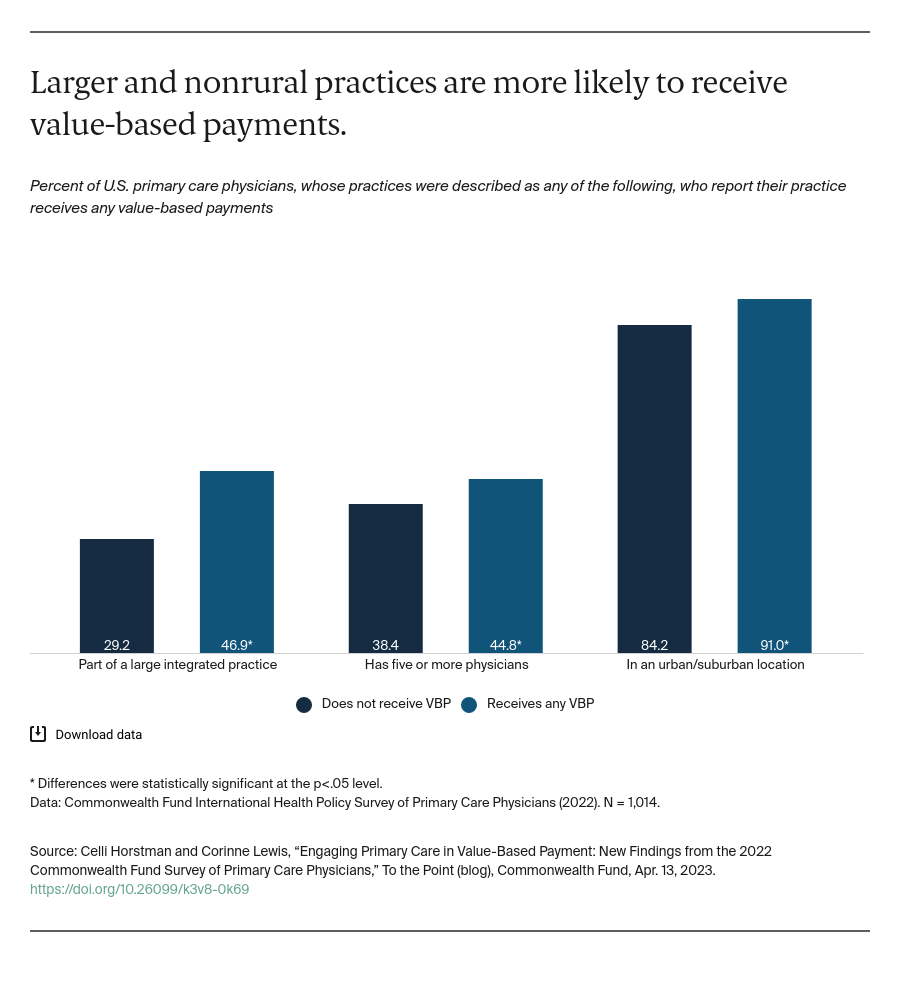 Value-Based Payment Associated with Other Efforts to Improve Care Quality
Participation in VBP was associated with efforts to provide higher-quality and more comprehensive care. PCPs in practices receiving VBP, compared to those not receiving these payments, were more likely to report participating in accountable care organizations (66% vs. 24%) or patient-centered medical homes (53% vs. 30%). These care delivery models have been shown to improve quality of care for patients while reducing costs. PCPs receiving VBP were also slightly more likely than those not receiving VBP to report screening patients for social drivers of health (66% vs. 60%), an important step in addressing the social needs that affect patients' physical health outcomes.
This association could indicate that PCPs who strive to improve the quality of their care are also more ready to engage in new types of payment. It also could mean that changing how we pay for care is enabling providers to offer more comprehensive, higher-quality care.
Our findings reveal that PCPs continue to be paid mostly through FFS, but that that those receiving VBP are more likely to engage in efforts to improve care, creating implications for the quality and comprehensiveness of patient care. To promote greater VBP participation in primary care, particularly among small, rural, and independent practices, policymakers and payers can offer upfront financial assistance to support PCPs in the transition, develop tailored supports and technical assistance for practices, and directly engage primary care physicians to identify barriers to value-based payment participation.