Medicare beneficiaries needing help at home often depend on unpaid family caregivers for their health and well-being. Caregiving can take a toll on a person's health, emotional status, and finances. These consequences threaten to undermine millions of family caregivers. The crisis will deepen as the population ages. By the year 2060, the number of people in the United States age 85 and older is estimated to be nearly triple what it was in 2020.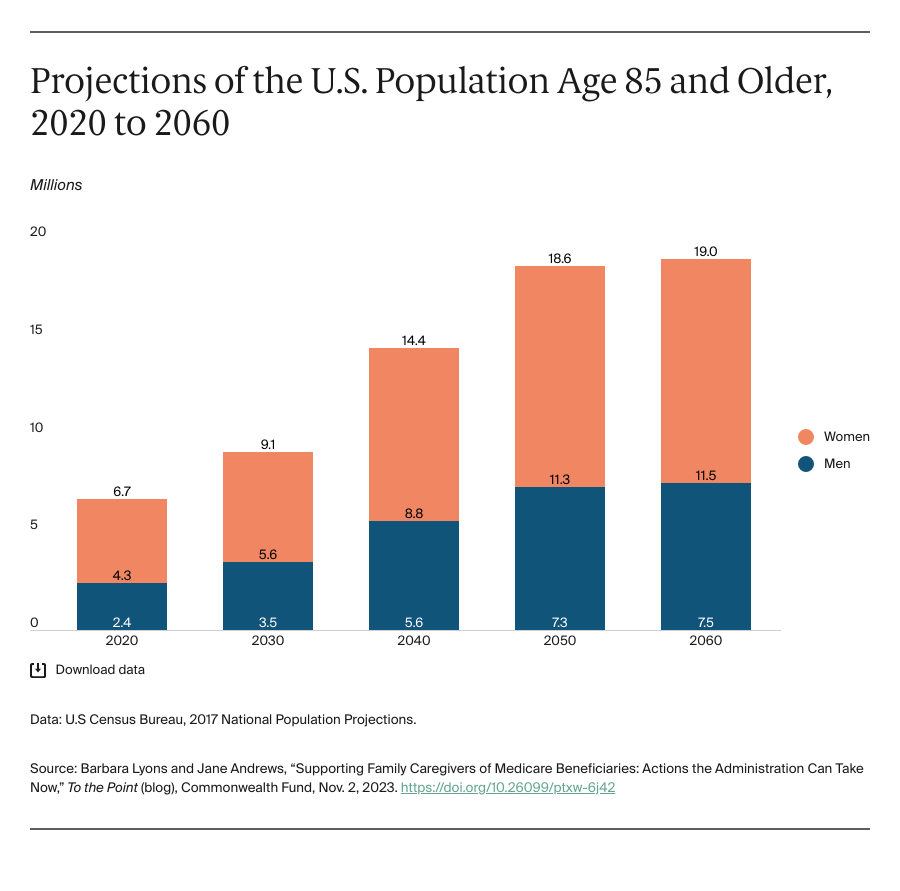 The role of family caregivers has historically been overlooked in Medicare policy. Yet, there are signs that the tide is turning as policymakers increasingly recognize the role of family caregivers in allowing people with physical and cognitive needs to remain in their homes and communities. For example, in 2022, the Advisory Council established by the RAISE Family Caregivers Act submitted a national strategy to Congress that included actions federal agencies can take to help family caregivers. More recently, President Biden's April 2023 executive order on Increasing Access to High-Quality Care and Supporting Caregivers acknowledges the growing need for in-home care and support for family caregivers.
Medicare can play a role in addressing this burgeoning crisis. We have identified five priority areas where the administration could take immediate action, based on interviews with aging, disability, and health policy experts and drawing on priorities of family caregivers collected through focus groups and a survey. These priorities complement broader efforts to develop caregiver support in other programs.
Increase Access to In-Home Benefits and Support for Family Caregivers Across Medicare
The administration can take steps in traditional Medicare and Medicare Advantage (MA) to help beneficiaries at home and alleviate burdens on family caregivers. Both programs could increase the availability and uptake of the home health benefit by not requiring beneficiaries to be homebound and ensuring that the full scope of home health benefits are made available, such as personal care and skilled care services. Additionally, Medicare can encourage and incentivize MA plans to provide more comprehensive supplemental benefits, including personal care, caregiver supports like respite, and social determinants of health benefits, such as food and transportation. Also, Medicare can leverage new and existing opportunities in accountable care organizations designed to provide more coordinated care and enhanced benefits, including help navigating the health system, care management, telehealth, and home care after hospitalization.
These benefits can help beneficiaries and their caregivers at home; there can be a special focus on underserved communities. The Centers for Medicare and Medicaid Services' (CMS) Innovation Center also could test the impact of various home care strategies to prevent hospitalizations and nursing home admissions and produce Medicare savings in new or existing models. For example, the recently announced GUIDE model aims to improve quality of life for beneficiaries living with dementia and reduce burden and strain on unpaid caregivers by providing training, referrals to community-based social services and supports, 24/7 access to a support line, and respite.
Use the Annual Medicare Physician Fee Schedule to Increase In-Home Support Services and Caregiver Assessments
There are opportunities to leverage annual updates to the Medicare physician fee schedule rules to propose new codes to cover services and benefits that support beneficiaries and caregivers and incentivize the use of existing payment codes. For example, in the 2024 physician fee schedule rule, new codes would allow billing for caregiver training services to assist patients in carrying out treatment plans. As noted in a recent report on caregiving, there are existing payment codes that providers can use to bill for services like caregiver health risk assessments, training, and care management. Providers' use of these codes could be encouraged through better education.
Enforce Existing Rules to Include Family Caregivers in the Beneficiaries' Care Plan Development
CMS can enforce existing rules to ensure that caregivers are included in transitions across care settings, including discharge planning from hospitals, as specified in President Biden's executive order. As noted in the Bipartisan Policy Center's report on home health care, the requirement that home health agencies provide preparedness training and education for family caregivers should be enforced. The Acute Hospital Care at Home experience, which was extended post-pandemic, allows inpatient-level care in patients' homes. This initiative can provide valuable lessons on what caregivers need to support beneficiaries at home.
Test Payment Options to Compensate Family Caregivers for Services Provided
Medicare could provide payment or a stipend for services provided by family caregivers at home. This option has precedent in Medicaid and the Veterans Administration. Currently, a few MA plans offer family caregivers limited reimbursement for hours of care provided in the home. CMS could encourage or incentivize plans to offer greater caregiver reimbursement. The Center for Medicare and Medicaid Innovation also could test caregiver compensation under a Medicare model.
Prioritize Research to Identify and Reduce Disparities in Caregiver Burden
CMS could increase collection and use of data on caregivers to identify their needs, determine if existing performance measures are adequate to capture caregiver health and well-being, and incorporate caregiving recognition and support questions into Medicare patient satisfaction surveys, like the Consumer Assessment of Healthcare Providers and Systems. Consistent with the 2022–2032 framework for health equity, CMS should analyze data on underserved beneficiaries and their caregivers and act on identified disparities.
Conclusion
The administration can take steps now to advance a more equitable system for Medicare beneficiaries to receive home-based services and augment and bolster family caregivers. These actions can benefit the Medicare program by recognizing and supporting the integral role caregivers play in delivering unpaid care to millions of beneficiaries at home, with a potential for improvement in quality and cost savings.