An abstract is available at:
http://jhppl.dukejournals.org/cgi/content/abstract/33/5/861
Synopsis
In 2000, use of nursing homes among African Americans, which previously lagged behind whites, was 14 percent higher than it was among whites, a study of 14,374 U.S. nursing homes finds. This reversal, however, masks another inequity: the lower quality of facilities predominantly used by African Americans, and the shift among whites toward the use of private-pay alternatives, such as home care and assisted living.
---
The Issue
When Title 6 of the Civil Rights Act was passed in 1964, nursing homes were exempted from submitting information about race and ethnicity in medical treatment and referral patterns, as well as from compliance reviews. Recently, such information has been made available, making it possible to assess racial disparities in health care use and quality in nursing homes. This information offers the opportunity to explore racial patterns in care, although nursing home "use rates" may present an imperfect picture of racial equity.
---
Key Findings
In 2000, use of nursing homes among African Americans was 14 percent higher than it was among whites, finally closing a racial gap in use rates that had been eliminated for medical visits and hospital admissions more than two decades earlier
While African Americans use rates have now surpassed whites' rates, there has been little gain in equity: African Americans tend to reside in lower-quality nursing homes compared with whites, who have increasingly turned toward private-pay, assisted-living facilities.
In 2000, African Americans were more likely than whites to be in nursing homes cited for deficiencies, including those causing harm or immediate jeopardy, and in homes terminated from Medicare and Medicaid.
African Americans were less likely to be in nursing homes with the highest staffing level of direct-care providers and the highest ratio of registered nurses to all nursing staff. They were more likely to be in understaffed facilities and in facilities housing predominantly Medicaid residents.
The five states with the highest racial disparities in quality of care were Maryland, Michigan, Missouri, Indiana, and Minnesota.
Nursing home segregation was highest in the Midwest, where the minority population is concentrated in urban centers, and lowest in the South, where it is more evenly distributed across urban and rural areas.
---
Addressing the Problem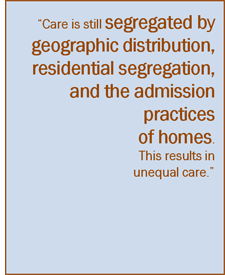 To ensure equity in access to high quality nursing home care, the authors recommend more attention to correcting geographic disparities in access, the financial disparities in Medicaid and private pay reimbursement, and broader systemwide accountability for the discharge and placement patterns of hospitals and other medical providers. Achieving greater racial equity will require the U.S. to address the increasing economic fragmentation of its health system, namely the separation of long-term chronic care and nursing home care from the rest of the health system—and the further division along income and racial lines. Failure to address this separation and fragmentation will make the goal of equity illusive, the authors say.
---
About the Study
The authors used 2000 data on 14,374 nursing homes (88% of the U.S. total) and nearly 1.5 million residents (89% of the U.S. total) to measure nursing home use, segregation, and quality. Their sources included U.S. census data; the Minimum Data Set, which provides patient information on race and clinical acuity; and the Online Survey Certification and Reporting system, which provides information on quality measures.
---
The Bottom Line
Eliminating persistent disparities in long-term care will require correcting the inequities resulting from separate and unequal care. Requiring racial reporting of use patterns could be the first step toward addressing this problem.