Data out this week from the Centers for Disease Control and Prevention's National Health Interview Survey show that since the Affordable Care Act (ACA) was passed in 2010, the number of uninsured Americans fell by nearly 20 million by January–September 2015. While rates of both private and public health insurance coverage were on the rise, the percentage of people ages 18 to 65 with a private health plan had climbed to 70 percent, the highest level since 2005.
The report also adds to the widening body of evidence that this new coverage is helping to protect Americans from health care costs. The percentage of people who reported that they had failed to obtain needed medical care because of cost in the last year dropped from 6.9 percent in 2010 to 4.6 percent in 2015. Other recent federal and private surveys are showing similar trends. A recent Commonwealth Fund analysis of the federal Behavioral Risk Factor Surveillance System (BRFSS) survey found that cost-related delays in getting needed care had fallen in 21 states between 2013 and 2014. A multiyear survey of low-income people in the South found larger declines in the share of people who reported they had skipped a medication because of cost in two states that had expanded their Medicaid programs compared with one that had not. And the latest Commonwealth Fund Biennial Health Insurance Survey found similar downward trends in reports of cost-related problems getting needed care.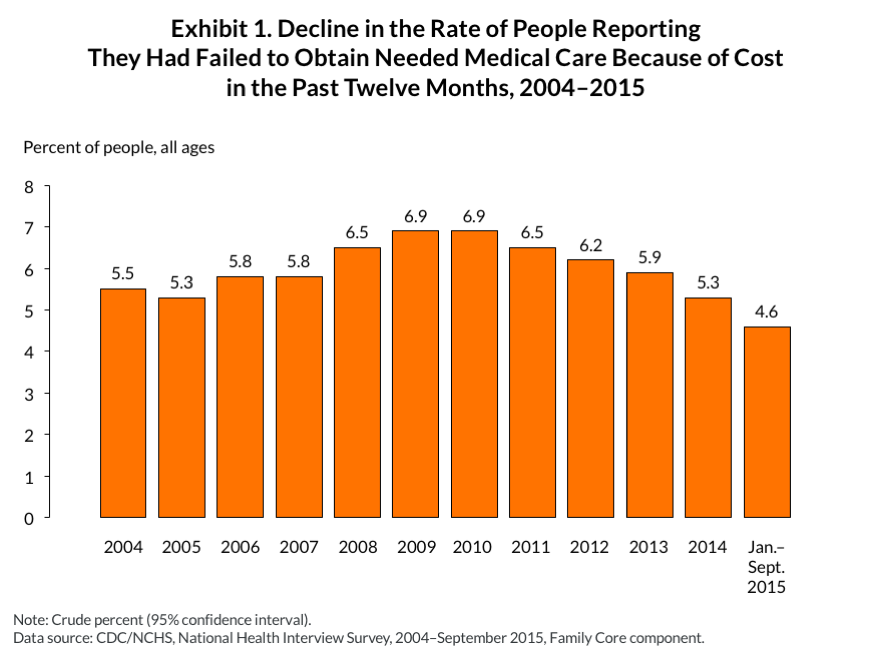 While some of the improvement in access is undoubtedly attributable to the stronger economy, the fact is that 20 million fewer people are responsible for the full cost of their care when they get sick. Late last year, the Centers for Medicare and Medicare Services (CMS) found that growth in household out-of-pocket health care spending slowed from 2.1 percent in 2013 to 1.3 percent in 2014.1 Out-of-pocket spending on hospital services, a big-ticket item for the uninsured prior to the ACA, fell by more than 4 percent. According to CMS, ACA coverage gains were mostly driving these spending trends.
About 12.7 million people had selected plans in the ACA marketplaces by the end of this year's enrollment period, with about 4 million new enrollees choosing health plans through HealthCare.gov.2 Enrollment in Medicaid and the Children's Health Insurance Program also has climbed, with new enrollment since the start of the coverage expansions reaching more than 14 million by late last year.3 These gains mean we are likely to continue to see improvement on coverage and access measures as new waves of federal and private surveys are released.
Affordability, however, is the major threat to continued improvement. People need to be able to afford their health insurance and have plans that provide adequate protection from health care costs. Ensuring that health plans and medical care are affordable will take the coordinated efforts of federal and state policymakers, insurers, and health care providers.
---
Notes
1 S. Collins and D. Blumenthal, "New U.S. Health Care Spending Estimates Reflect ACA Coverage Expansions and Higher Drug Costs," The Commonwealth Fund Blog, Dec. 4, 2015.
2 "Health Insurance Marketplace Open Enrollment Snapshot—Week 13: January 24, 2016–February 1, 2016," HHS.gov/HealthCare blog (Washington, D.C.: U.S. Department of Health and Human Services, Feb. 4, 2016).
3 Medicaid and CHIP: November 2015 Monthly Applications, Eligibility Determinations and Enrollment Report (Washington, D.C.: U.S. Department of Health and Human Services, Jan. 27, 2016).