The Issue
Health care in the United States has long been marked by racism and discrimination resulting in vast disparities in access to care and health outcomes. Black and Latino adults have a lower life expectancy than white adults, have higher rates of chronic health conditions, and are much more likely to have adverse birth outcomes. The COVID-19 pandemic brought the racial disparities in stark relief — Black, Latino, and American Indian/Alaska Native people have experienced higher rates of illness, death, mental health issues, and economic hardship than white Americans. For communities that have been historically marginalized — immigrants and members of the LGBTQ community — discrimination, stigma, violence, and denial of human rights has led to higher rates of mental illness, substance use disorder, and suicide.
This blog is one in our series on
Previous in the series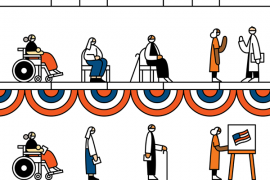 There is substantial evidence that expanding health insurance coverage and ensuring access to health care providers works to reduce disparities in health outcomes. The Affordable Care Act (ACA) led to historic reductions in racial disparities in coverage and access, particularly as a result of Medicaid expansion. But progress has stalled and, in some cases, eroded, since 2016, under more restrictive policies advanced by the Trump administration.
Below we outline each presidential candidate's approach to addressing the long-standing inequities in the U.S. health care system.
President Donald Trump
Overall approach: President Trump supports the rollback of the ACA, including the Medicaid expansion for adults. Removing the coverage expansions that improved access to care would reverse important steps taken to address disparities and racial inequities.
Data and diversity training: In 2020, in the midst of enhanced racial tensions in the United States, the Trump administration eliminated requirements for racial sensitivity and diversity training for federal agencies, federal contractors, and grantees. President Trump's executive order appears to prohibit implicit bias training, which has been shown to improve provider–patient interactions.
Immigrant health: Trump has advanced policies (e.g., the public charge rule) that would prohibit most legal adult immigrants from becoming citizens if they enroll in Medicaid (or obtain any public assistance, such as supplemental nutritional benefits, or SNAP).
LGBTQ health: In 2020, the Trump administration finalized the removal of antidiscrimination protections across federal agencies, potentially laying the groundwork to deny care and protections to LGBTQ individuals and families.
Vice President Joe Biden
Overall approach: Vice President Biden proposes to build on the ACA, add incentives for states to expand Medicaid, and increase federal funding for Medicaid, public health, and safety-net providers. If successful, these provisions could build on coverage gains and continue to close racial disparities.
Data and diversity training: Biden has committed to ensuring sufficient funding across federal agencies to initiate robust collection and analysis of data by race, gender, geography, and disability status to better understand and address health disparities. Biden also supports enhancing cultural competency and implicit bias training for health care professionals.
Immigrant health: Biden would extend ACA coverage to DREAMers — that is, people who came to the U.S. as children and continue to live here without official authorization — and would eliminate the five-year waiting period for lawfully present immigrants to be eligible for Medicaid and the Children's Health Insurance Program (CHIP).
LGBTQ health: Biden has pledged to reverse the Trump administration's elimination of antidiscrimination protections for the LGBTQ community and require that federal health plans cover HIV/AIDS treatment and prevention medications, gender confirmation surgery, and hormone therapy.
Implications of the Candidates' Approaches
To assess the implications of the candidates' approaches to equity in health care, the public might consider the following questions:
How would the candidates' plans affect people of color?
Trump: Uninsured rates among Hispanic people have risen during the Trump administration. The repeal of the ACA would further eliminate coverage gains made by Hispanic, Black, and Asian American people. The president's commitment to repealing the ACA coverage expansions combined with efforts to restrict federal funding, eligibility, and enrollment for Medicaid could reverse gains in addressing health disparities.
Biden: Vice President Biden's proposals to expand coverage under the ACA will particularly benefit people of color, particularly those living in the 12 states that have not yet expanded Medicaid. His plan would double funding for public health and safety-net providers, including federally qualified health centers, which primarily serve communities of color and the uninsured.
How would the candidates' approaches affect health care for immigrant communities?
Trump: The president has promoted the public charge rule. Under this rule, legal immigrants who use Medicaid could be prevented from becoming U.S. citizens. This policy has had a "chilling effect," leading immigrant families to avoid needed care, even during the COVID-19 pandemic.
Biden: Biden's plan could increase coverage options and make health care more affordable by extending ACA coverage options to DREAMers, lifting the five-year waiting period for low-income immigrants to access Medicaid and CHIP, and withdrawing the Trump administration's public charge rule.
How will the candidates address disparities in maternal mortality and morbidity?
Trump: The president's proposed 2021 budget includes funding for maternal health programs under the Health Resources and Services Administration's Improving Maternal Health in America initiative. However, the Trump administration's commitment to rolling back the Medicaid expansion under the ACA would lead to decreased access to critical prenatal care and services and disproportionately harm women of color.
Biden: Biden's plan calls out racial disparities in maternal mortality and would expand evidence-based care models to decrease maternal deaths, invest in community health workers, and double funding to community health centers, which often provide prenatal care. This is in addition to preserving and building on the coverage expansions made under the Affordable Care Act.