Medicaid is the health insurer for 45 percent of births in the United States and 66 percent of all births to Black mothers. Given the disparate rates of maternal mortality and morbidity between Black and indigenous people and white people in the U.S., there is an opportunity for state Medicaid agencies to take the lead in implementing policies that promote better birth outcomes and reduce these drastic racial disparities in maternal health outcomes.
State Medicaid agencies and public health departments can craft policy options that, for example, extend postpartum coverage; enhance benefits to cover home-visiting programs, group prenatal visits, and doulas; or develop value-based payments that reward improved health outcomes and equity. Understanding the state policy landscape can help policymakers, researchers, patient advocates, and health care providers target their efforts.
To aid in these efforts, the Center for Health Care Strategies (CHCS), in partnership with the Institute for Medicaid Innovation and with support from the Commonwealth Fund, created a dataset and interactive maps of state maternal health policies that support high-value care. They identified 25 policies that are organized into three categories: 1) coverage and benefits; 2) care delivery transformation; and 3) data and oversight.
Coverage and benefits
Freestanding birth centers. The Affordable Care Act (ACA) required that states provide Medicaid reimbursement for birth center facility service fees and the professional fees of the birthing attendant. Coverage of freestanding birth centers under the Children's Health Insurance Program is not required, but states may cover services in these facilities to the extent that the state licenses or otherwise recognizes such providers under state law.
Postpartum coverage expansion. Several states have taken steps to advance legislation that would extend Medicaid eligibility until six months or one year after birth or the end of pregnancy.
Care delivery transformation
Payment reform. States are adjusting financial incentives — for example, reduced payment for medically unnecessary cesarean sections — for providers to improve maternal health outcomes and increase access to pregnancy-related and postpartum care.
Models of care delivery. Models of care delivery for maternity services that are coordinated among an interdisciplinary team of birth workers, including midwives and doulas, can advance high-value maternity care. States also are providing person-centered models of maternity care, including pregnancy medical homes, group prenatal care, care coordination, and case management.
Data and oversight
Enhancing data collection. Some state Medicaid managed care organization contracts include reporting requirements to enhance data collection to improve performance and quality.
Race-stratified data. Some states are requiring Medicaid to collect race-stratified data. Disaggregating data allows improved visibility of health disparities in outcomes and can help better target interventions.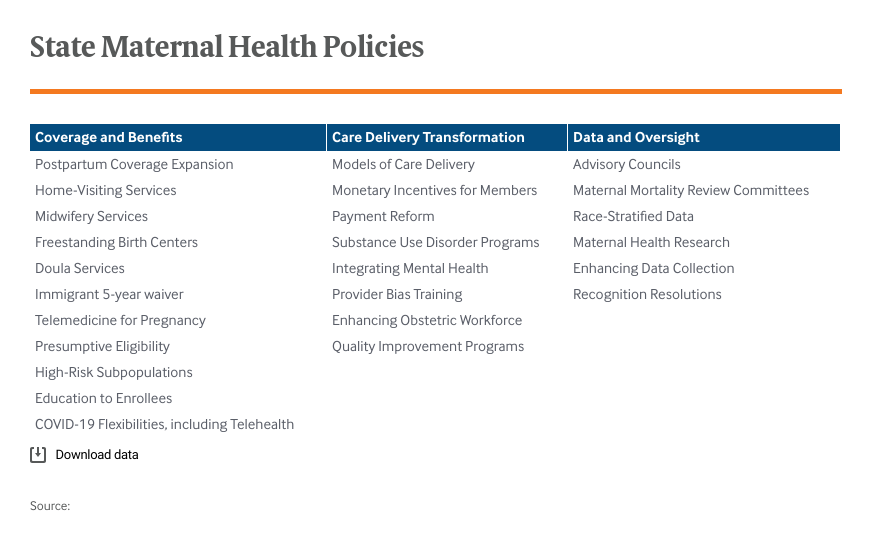 Highlighted Findings
Based on their research, CHCS analyzed maternal health policies to identify national and state trends. Highlights include:
To date, federal legislation is a primary driver for state adoption of high-value maternity services. For example, under the ACA states can cover birth center and midwifery services, as well as substance use disorder and mental health benefits for people who are pregnant, birthing, or postpartum. However, states play an influential role in implementation, particularly through insurance regulations and provider licensing. State Medicaid programs also can add state-funded benefits and create incentives to encourage adoption of high-quality models, like midwifery-led care. Federal legislation also helped catalyze most states to build capacity for maternal mortality review committees, which are critical in understanding root causes of maternal mortality.
Thirty-four states have implemented at least one payment reform policy. In 19 states, the most common value-based payment policy is reduced payment or nonpayment for procedures that are not medically indicated.
Doula services, widely known for improving birth outcomes and experience in low-income communities of color, are now covered in five states.
Four of 12 states that have not expanded Medicaid under the ACA have adopted 15 or more policies to improve maternal health outcomes. For example, Alabama, Georgia, Mississippi, South Carolina, and Texas have introduced legislation to support postpartum coverage. The postpartum period provides a key opportunity to address maternal health.
California has adopted 22 of the 25 policies, the most of any state. These include implementing midwifery-led care models, establishing home visiting services in the prenatal and postpartum periods, waiving the requirement for pregnant immigrants to lawfully reside for five years before Medicaid eligibility, and telemedicine for pregnancy-related care.
To learn more about how states compare in maternal health policy adoption, explore State Policies to Improve Maternal Health Outcomes.