Medicaid covers more than 16 million women and individuals assigned female at birth of reproductive age (i.e., between 19 and 49). Approximately 41 percent of all U.S. births are covered by Medicaid, ranging from 17 percent in Utah to 61 percent in Louisiana. Additionally, Medicaid covers between 58 percent and 66 percent of births for individuals who are non-Hispanic Black, American Indian or Alaska Native, Native Hawaiian or other Pacific Islander, and Hispanic.
The perinatal health policy landscape is undergoing significant changes in response to the country's escalating maternal mortality rate and fractured state of maternal care delivery. States are exploring and implementing policies that affect postpartum care, midwives, doulas, and freestanding birth centers. Individual policies can support evidence-based practices, but such policies are not a checklist for advancing birth and perinatal health equity. These individual policies are single elements needed to support systemwide transformation.
The Institute for Medicaid Innovation and the Center for Health Care Strategies have updated state perinatal policy data and maps organized into three categories: coverage and benefits; care delivery transformation; and data and oversight. The updated data highlight the following innovations and policy gaps.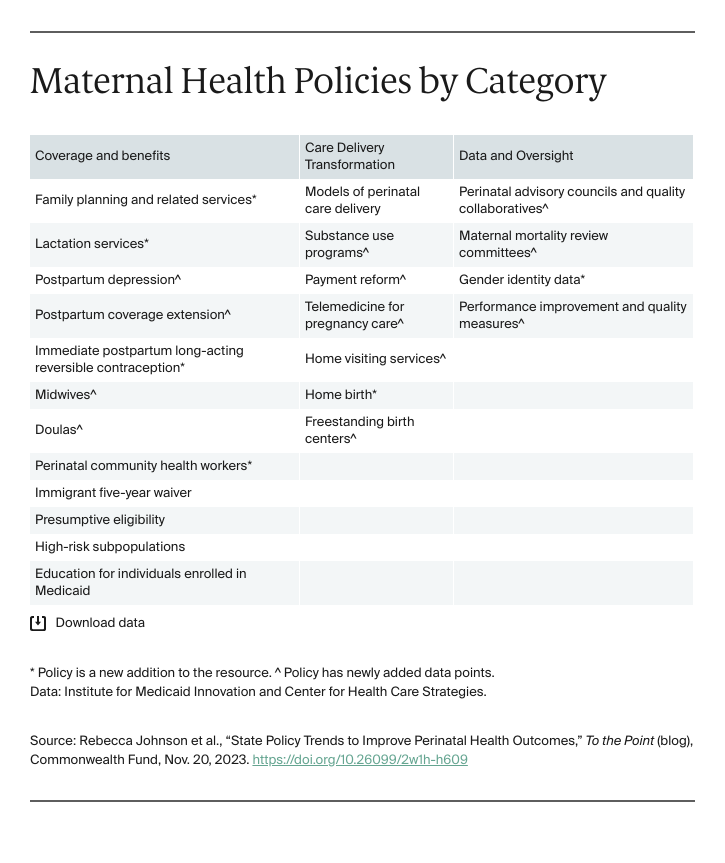 Postpartum Coverage Extension
In 2022, Congress passed legislation proposing an extension of Medicaid coverage from 60 days to 12 months postpartum and allowing the policy to be implemented through a state plan amendment or Medicaid waiver. To date, 40 states and the District of Columbia extended coverage to 12 months postpartum. Thirty-seven states and the District of Columbia have implemented the extension through a state plan amendment and three have CMS-approved waivers.
Why does this matter? Extending postpartum coverage is critical to ensuring ongoing access to health services. Providing one year of continuous postpartum coverage is essential to advancing health and racial equity and reducing disparities in maternal and infant deaths.
Doulas
A state option for doula services is part of the preventive services benefit provision of the Affordable Care Act. States have other approaches to cover doula services through Medicaid, including the state plan amendment. To date, 11 states and the District of Columbia have exercised this option to receive federal financing for doula services.
Why does this matter? The doula benefit can help provide comprehensive services to pregnant and postpartum people. Doulas are considered a key component of person-centered care and associated with lower rates of postpartum depression.
Postpartum Depression
Twelve states require caregiver and maternal depression screening at well-child visits; 28 states and the District of Columbia recommend it, and eight allow it. Forty-two states and the District of Columbia also cover postpartum depression treatment through Medicaid.
How does this help? Postpartum depression affects one of eight people in the U.S., with higher rates in Medicaid-covered individuals compared to those with commercial insurance. Supporting screening can improve early treatment and outcomes.
Models of Perinatal Care Delivery
Thirty-eight states and the District of Columbia use at least one of the following maternity care models as a covered benefit: maternity care coordination, group prenatal care, or maternity medical home.
Payment Reform
Thirty-two states implemented at least one of the following payment innovations: bundled payments for maternity episode of care, pay-for-performance, or reduced payment or nonpayment for nonmedically indicated procedures.
How does this help? Payment reform can improve quality of perinatal care and reduce payment for nonmedically indicated procedures, such as cesarean sections for low-risk births. Such reforms can hold providers accountable for quality of care.
Freestanding Birth Centers
A freestanding birth center is a health care facility that uses a midwifery model during pregnancy, labor and delivery, and postpartum. The Affordable Care Act requires states to provide Medicaid reimbursement for birth center facility service fees and the professional fees of the birthing attendant. Thirteen states have a certificate of need (CON) requirement for establishing a birth center, which can be a substantial barrier. States with a CON requirement have fewer birth centers compared to states without the requirement.
Perinatal Advisory Councils and Quality Collaboratives
Thirty-one states and the District of Columbia have perinatal advisory councils. Forty-five states and the District of Columbia participate in the National Network of Perinatal Quality Collaboratives, an initiative to improve population-level perinatal health equity.
Maternal Mortality Review Committees
Forty-nine states and the District of Columbia have a maternal mortality review committee (MMRC) to investigate pregnancy-related mortality and morbidity and develop comprehensive recommendations to reduce future deaths. Idaho is the only state without an active MMRC; it formed one in 2019 that ended on July 1, 2023. Of the 49 states and D.C., 10 states do not stratify MMRC data by race or ethnicity. Such data are critical to understanding health disparities and preventing maternal mortality.
State Highlight: Montana
Montana has adopted perinatal health policies, including a waiver that extends Medicaid eligibility for family planning services for those losing full-benefit coverage at the end of the postpartum period. The state has proposed legislation to extend postpartum coverage from 60 days to 12 months; fund all or most medically necessary abortions; cover gender-affirming surgery; and recommend caregiver depression screening during well-child visits. Qualified health care professionals, not solely physicians, can provide abortions and the state provides protections from harassment and physical harm for anyone entering an abortion clinic. Montana is a leader in group prenatal care coverage with high clinician reimbursement rates.
State Highlight: Connecticut
Connecticut has adopted 20 of the 23 policies included in the updated dataset. Connecticut is one of three states to collect gender identity data on its Medicaid application and includes a write-in option for gender other than male or female. The state has adopted 12-month postpartum coverage extension, expanded substance use disorder benefits for pregnant adults, and covers many lactation services, gender-affirming services, and home birth.
To learn more about how states compare in perinatal health policy adoption, explore the updated dataset and interactive maps here: State Policies to Improve Perinatal Health Outcomes.
Note: The term "perinatal" instead of, and in addition to, "maternal" is used throughout the updated resource in recognition that individuals who have the capacity to become pregnant have a range of gender identities. Language, as written in statues, was not replaced or changed.