The article is part of a partnership between the Commonwealth Fund and the Bassett Research Institute in Cooperstown, N.Y., to explore innovative approaches to the health care challenges facing rural communities across the United States.
Introduction
Many rural older adults have lived their whole lives in the same small towns, some in the same homes. Others are more recent arrivals, including the aging parents of immigrants who've come to work in agriculture, energy, or other industries. Like older adults across the country, rural seniors tend to want to age in their communities, amid familiar people and places. But with fewer health care providers, fewer professional caregivers, and fewer young people than in urban areas, rural communities struggle to care for aging residents.
"It's the number-one challenge rural communities are facing," says David Trost, CEO of a senior housing services provider in Billings, Montana. "The folks who are staying are old. And the folks who are leaving are young, and so there's fewer people to serve the old." These challenges are exacerbated by the fact that rural older adults tend to have higher needs; compared with urban and suburban older adults, they are more likely to live in poverty and more likely to have chronic illnesses.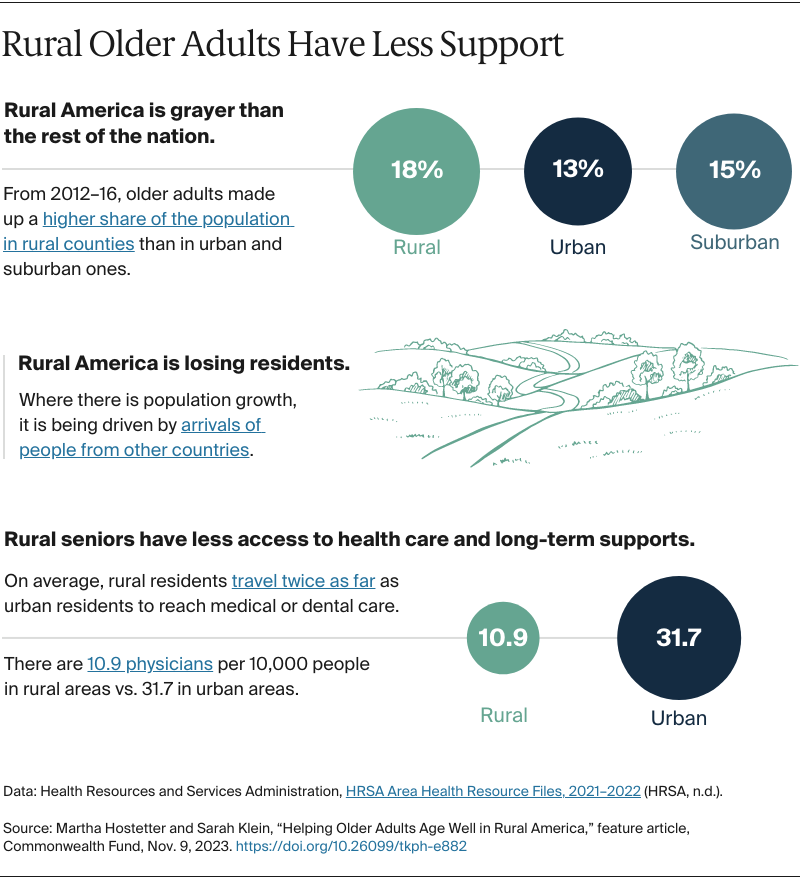 In this report, we showcase health care and long-term care providers working to strengthen services for rural older adults. Some focus on making hospitals and other care providers "age-friendly," while others try to make it easier for rural seniors to access medical care and social supports. Given that many rural providers are facing financial shortfalls and workforce shortages, we also consider what payment and policy changes might be needed to sustain and spread efforts to help older adults age well in rural America.
Mobilizing Local Assets
In rural communities, where the nearest hospital, clinic, or nursing home can be miles away, health and human service organizations often fill gaps. Lutheran Services in America — a national network of 300 health and human services providers that offer senior housing, caregiver support, transportation, nutrition, and other supports — recently launched the Rural Aging Action Network. Participants have come together in Minnesota, Montana, North Dakota, and South Dakota to better understand and respond to the needs of older adults in their communities, including towns of fewer than 700 people.
Many of the older adults they've heard from are used to relying on themselves; when they do need help, they reach out to neighbors and members of their faith communities. But they worry about what will happen when these sources of support become too old or frail themselves.