Introduction
When people talk about bending the health care cost curve, CareMore is often held up as an example that it's possible. Founded more than 20 years ago by a group of physicians, the Cerritos, Calif.–based Medicare Advantage plan and medical provider operates on the premise that a third or more of health care spending on frail and chronically ill patients can be eliminated by restructuring the way their care is delivered.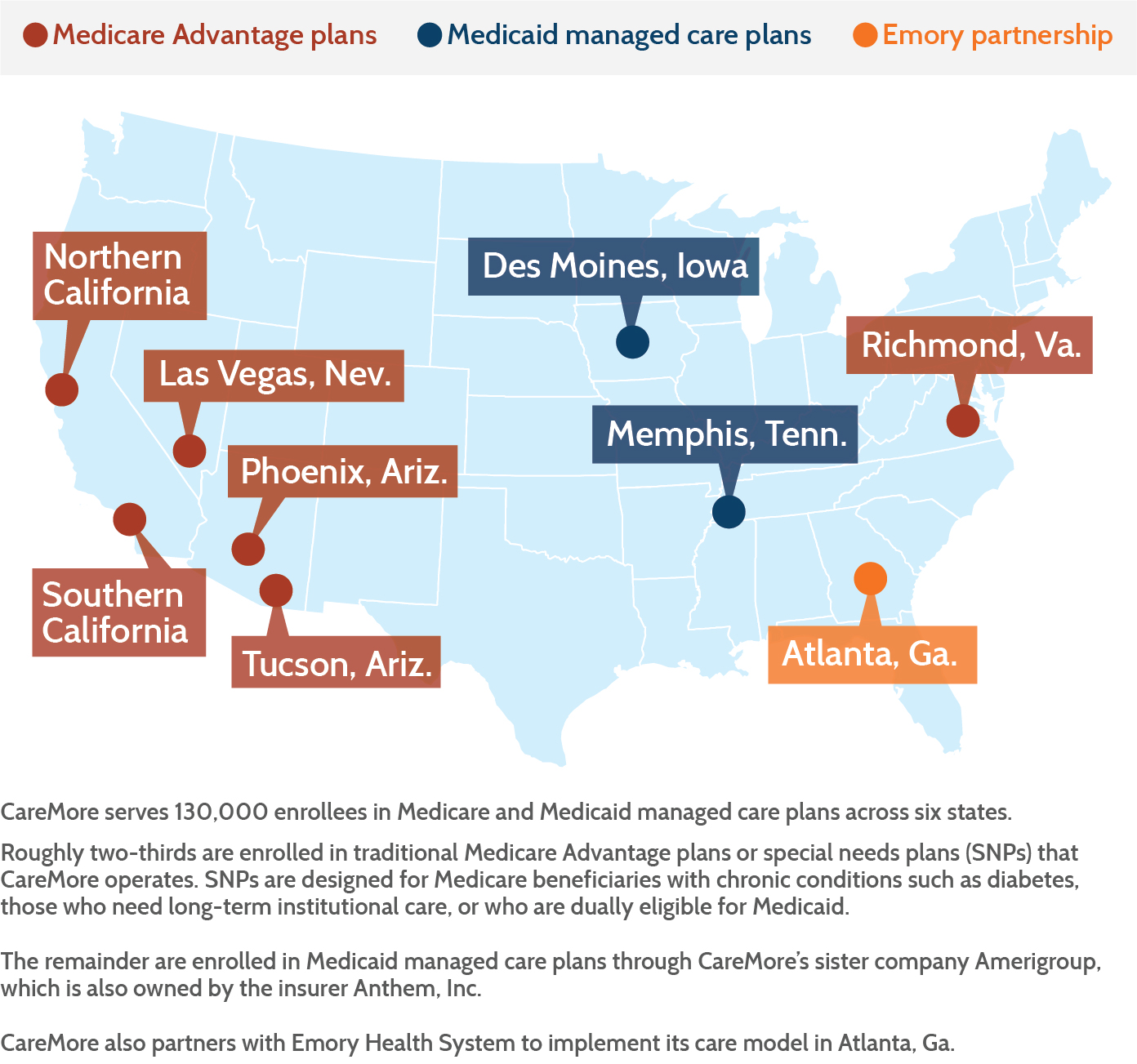 CareMore has built its business around identifying high-risk patients who have a high likelihood of developing problems as they age, and surrounding them with coordinated services. CareMore's effort to improve care for frail or chronically ill patients—especially the sickest 15 percent of its membership that accounts for some 75 percent of spending—is part of its strategy to spend more preventing and slowing the progression of disease than treating it. To do that, it invests the capitated payments it receives from Medicare in prevention and early intervention programs for all members and on supplemental benefits that Medicare's fee-for-service program typically doesn't cover—including patient education programs and transportation to its Care Centers. At the Care Centers, multidisciplinary teams of clinicians collaborate to identify what it will take to keep members with the most complex needs healthy.
As a result, CareMore says the company spends about twice as much as traditional Medicare keeping sick patients from getting sicker, but only half of what the program spends on the sickest patients. Much of the savings result from keeping patients healthy enough to avoid hospitalizations. In 2015, CareMore members had 20 percent fewer hospital admissions, 23 percent fewer bed days, and a 4 percent shorter length-of-stay than beneficiaries covered under fee-for-service Medicare (Exhibit 1). How close CareMore comes to meeting its goal of reducing spending for the frail and chronically ill by one-third is unknown; utilization patterns suggest the company is making headway, as does pricing information on its Medicare Advantage products, which include special needs plans for patients with diabetes, lung disorders, end-stage renal disease, and heart disorders.