Background
When hospitalized patients have a urinary catheter, it can reduce mobility and lead to catheter-associated infections. Evidence suggests that urinary catheters are often inserted when not needed for hospitalized inpatients. Once inserted, catheters need to be regularly reassessed and removed if appropriate to avoid complications and injury, such as urinary and bloodstream infections, which are harmful to patients and costly to health care systems.
Yet, U.S. research shows that more than half of urinary catheters are inserted when not needed. Akira Kuriyama, M.D., a critical care and infectious disease specialist in Okayama, believed that Japan had a similar problem but lacked data on how common a practice it was. Choosing Wisely Japan's top five list of recommendations includes a recommendation not to place catheters simply for provider convenience.
The Innovation
Dr. Kuriyama launched a eight-month study to assess the prevalence of urinary catheters across five Japanese teaching hospitals, as well as to design a strategy for more appropriate catheter use. The authors used the measure of patient days to assess catheter use, evaluating a total of 3,177 days across the ICUs.
Population Targeted
Hospitalized inpatients at five intensive care units at five Japanese academic hospitals, as well as physicians and nurses at these hospitals.
Key Features of the Innovation
For two months, the intervention engaged all clinicians who provide care to patients in ICUs, and had three phases. Catheter use was compared before and after the intervention.
The phases included:
Educating nurses about appropriate catheter use. Source material included Guidelines from the U.S. Centers for Disease Control and Prevention (CDC) and the Ann Arbor Criteria for Inappropriate Urinary Catheter Use
Placing posters in ICUs with information about inappropriate indications for urinary catheters
Developing a checklist to use during daily inpatient rounds to assess the need for urinary catheters.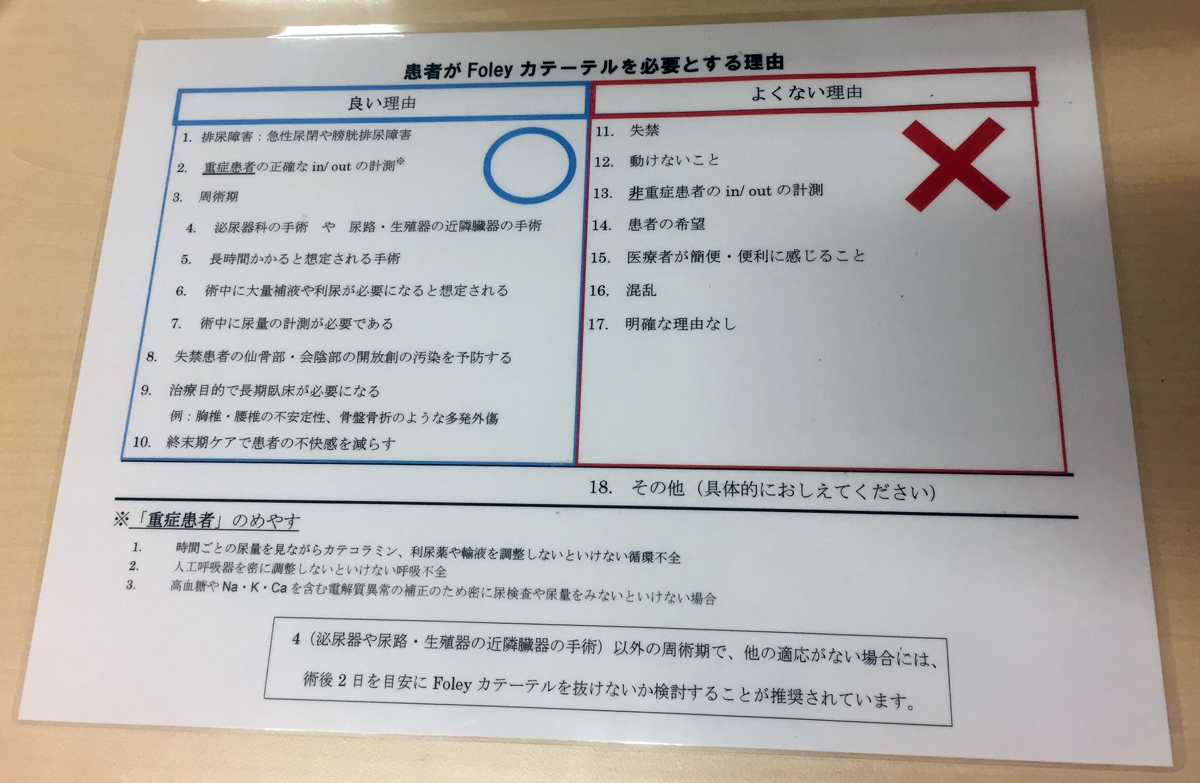 Following the intervention, inappropriate urinary catheter days decreased from 40% to 15%.
Evidence of Impact
Following the intervention, inappropriate urinary catheter days decreased from 40 percent to 15 percent. According to Kuriyama, clinicians took note of how much easier it was for patients to move, walk, and stand when unnecessary urinary catheters were removed. The study results were presented at the 2018 Critical Care Congress (Society of Critical Care Medicine). 
Sharing and Spreading the Innovation
Kuriyama says that this study has spurred a number of other research studies on urinary catheter prevalence and reduction across multiple clinical settings. In the United States, there are ongoing studies and large-scale implementation efforts to reduce unnecessary urinary catheter use. In Canada, a "Lose the Tube" toolkit was developed, based on an Ontario research study and related tools.
Contact for Further Information
Dr. Akira Kuriyama, [email protected]
This publication is one in our series on