What did health insurance coverage look like for U.S. adults in the first half of 2020 as the country slid into the worst public health and economic crisis in generations? In this brief, we present findings from the Commonwealth Fund's latest Biennial Health Insurance Survey, which assesses the extent and quality of coverage for U.S. working-age adults. We've conducted this survey since 2001. It uses three measures to gauge the adequacy of insurance coverage:
whether or not people have insurance
if they have insurance, whether they experienced a gap in coverage in the prior year
whether high out-of-pocket costs and deductibles are causing them to be underinsured, despite having continuous coverage throughout the year.
The survey began on January 14, 2020 — just before the outbreak of the coronavirus pandemic in the United States. We interviewed a nationally representative sample of 4,272 adults ages 19 to 64 about their health insurance coverage through June 5. (See "How We Conducted This Study" for more detail.) Despite the severity of the pandemic and the abrupt disruption in economic activity beginning in March, the survey did not find statistically significant changes in coverage from the last time it was conducted in 2018. But it does show a persistent vulnerability among working-age adults in their ability to afford coverage and health care that could worsen if the economic downturn continues.
This publication is one in our series on
Previous in the series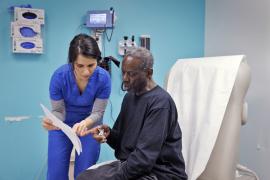 Survey Highlights
In the first half of 2020, 43.4 percent of U.S. adults ages 19 to 64 were inadequately insured. This is statistically unchanged from the last time we fielded the survey in 2018.
The adult uninsured rate was 12.5 percent. In addition, 9.5 percent of adults were insured but had a gap in coverage in the past year and 21.3 percent were underinsured. These findings are also statistically unchanged from 2018.
There was no statistically significant change in coverage inadequacy between the months leading up to the pandemic and the months that followed, but this may change as the pandemic continues.
Half of adults who spent any time uninsured or who were underinsured reported problems paying medical bills or said they were paying off medical debt over time. A quarter of those who were continuously insured and did not meet the threshold for underinsurance also reported problems paying bills.
People who reported problems paying medical bills experienced lingering financial problems including damage to their credit ratings and depleted savings.