Read About Other Aspects of Medicare Advantage
People on Medicare have the option of receiving benefits through the traditional fee-for-service program or Medicare Advantage, which is administered by private health plans. Private plans vary more than traditional Medicare in their benefit design and cost-sharing structures. They can use network design, care management, and provider incentives to encourage the efficient use of services.
Medicare Advantage plays an increasingly important role in the Medicare program. Enrollment in Medicare Advantage plans has doubled over the past decade and continues to grow. In 2022, approximately 28 million people (43% of Medicare beneficiaries) are enrolled in Medicare Advantage plans; by 2025, Medicare Advantage is projected to be the dominant way people receive their Medicare benefits.
Yet assessing the performance and the value of Medicare Advantage to beneficiaries and to taxpayers is complex. The cost of Medicare Advantage plans is driven by the payment system, with payments varying by plans' costs, counties where they operate, quality of care delivered, and health risks of enrollees. This payment system affects the extra benefits plans can offer and who chooses to enroll. In addition, the payment system affects the affordability of Medicare both for beneficiaries and the federal government. Higher payments to plans increase overall Medicare spending, raise the Part B premiums for all beneficiaries, and erode the solvency of Medicare Hospital Insurance Trust Fund.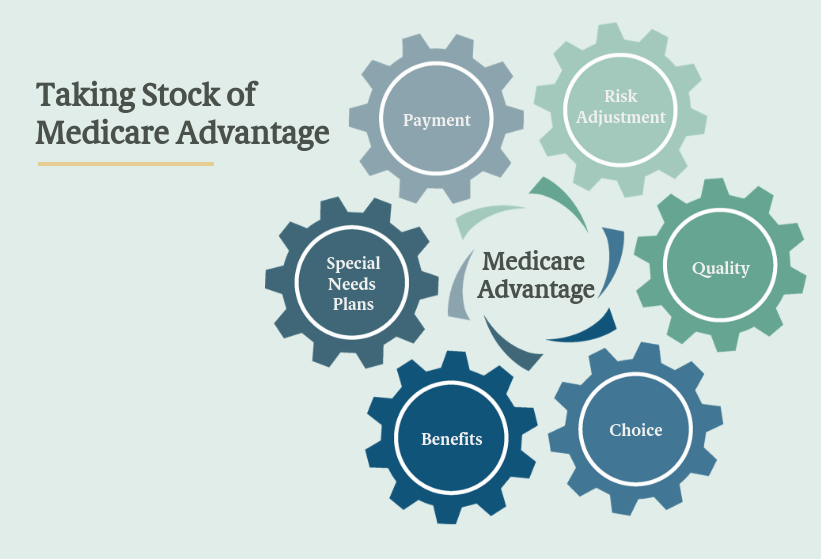 To understand the value of Medicare Advantage, it is also important to assess the plans' offerings and the quality of care delivered to beneficiaries. The average Medicare beneficiary has more than 30 plans to choose from, all with different benefits, premiums, and quality ratings. This complexity and variability make it especially challenging for beneficiaries to make informed decisions and for federal policymakers to create policy on how plans are paid and regulated.
The Commonwealth Fund and Arnold Ventures partnered to examine the challenges, issues, and opportunities of Medicare Advantage plans. We asked diverse groups of experts how well the different features of the program are working and how they might be strengthened for the future. In a series of To the Point posts, authored by colleagues Martha Hostetter and Sarah Klein, we summarize these experts' views. Posts on payment to Medicare Advantage plans and risk adjustment are the first in the series. Future posts will examine quality measurement and reporting, benefits, beneficiaries' choices, and special needs plans.
By highlighting areas of agreement and disagreement, and potential policies that could improve the program, we aim to inform discussions about the plans. With Medicare Advantage plans taking on a prominent role in the Medicare program, we hope these blog posts provide background and context for examining the efficiency, effectiveness, and equity of the plans for beneficiaries and the federal government.